Baby's First Christmas Ornament
Don't forget to give baby his or her very own special ornament to go on the Christmas tree. The most exciting time in every parent's life is the birth of a new addition to the family. A special way to help you hold on to those memories is with baby's first Christmas ornament. You'll want one for your own tree, but don't forget the grandparents. That sweet little ornament will be a precious gift on the Christmas tree today and a precious keepsake tomorrow. Make it a special memory by taking the baby's picture with the ornament. Pictures pull everything together.
Baby's 1st Christmas Personalized Bear and Heart Ornament - This Teddy Bear Christmas ornament is simply adorable and works perfectly baby girls or boys. Each individual ornament is hand painted and can be personalized with the baby's name and the year. It measures 3 inches X 3 ½ inches and has ribbon loop for hanging.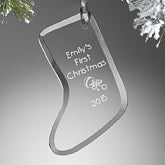 Create Your Own Glass Stocking Ornament - I especially like these glass ornaments because you have so many options in personalization. They are perfect for baby's first Christmas, but they can also be personalized in other ways. You have a choice of 18 designs to choose from. It would be fun to have one for every member of the family.

Baby's 1st Christmas Personalized Glass Ornament - This beautiful glass ornament is obviously intended to be something special. It's beautifully engraved with your personalization and the year. Choose baby Rattler icon or Booties icon. It has a golden loop for hanging and its own pouch for storing.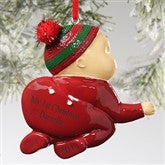 Crawling Baby© Personalized Ornament - Now this is truly one of the cutest baby's first Christmas ornaments I've seen. A little crawling baby with the words "My 1st Christmas" printed on the baby's bottom with your baby's name printed right below and the year printed on baby's foot. Actually you can have it personalized with any 2 lines. "My 1st Christmas" is optional. It measures 3 inches high by 3 ¼ wide and includes a ribbon for hanging. This one also comes with it's own velvet storage pouch.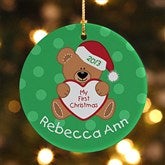 My First Christmas© Personalized Ornament - Another adorable Teddy Bear ornament, this one also features a little bear holding a heart, but this time it's a cute little illustration on porcelain. One of the things I really love about it is the bright color. Each is personalized with Baby's name and the year. It measures 2 ¾ inches in diameter and includes a shimmering silver ribbon for hanging. This ornament also comes with a beautiful velvet drawstring bag for storage or easy gifting.

Personalized Baby's First Christmas Ornament for a Baby Boy - A cute baby bottle for a cute baby boy is an adorable way to remember baby's first Christmas—not to mention all those night-time feedings. This little bottle is dressed for Christmas with its blue bow and golden bell. It's laser engraved and measures 4 ½ inches X 1 ½ inches.
Baby Bottle Girl Personalized Christmas Ornament - That precious baby girl needs a precious ornament on her very first Christmas.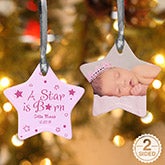 A Star Is Born© Personalized Ornament - Simply upload your baby's photo and have it captured on a beautifully embellished blue or pink star ornament. This works as a baby's fist Christmas ornament, but also as a newborn baby gift for any time of the year.
Baby's first Christmas is fun and memorable. Baby's first Christmas ornament is special and helps keep those memories alive. And don't forget to take pictures!
More Baby's First Christmas Ornaments…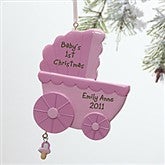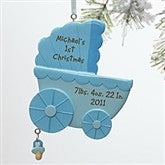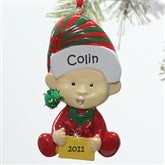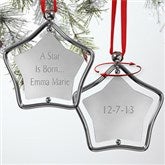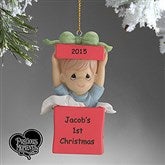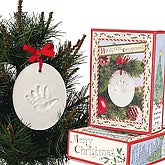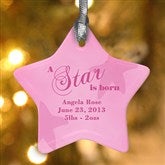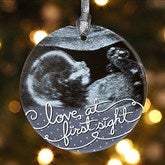 Website Affiliations