Coworker Gifts - 101+ Ideas Under $25
Every Christmas and sometimes on other occasions we need to find a nice inexpensive gift to give a coworker. We don't want to appear cheap, but at the same time we can't afford to go overboard either. When you give someone a gift, you should be thoughtful and take pride in what you're giving. Putting in a little effort ahead of time will make you and your coworker very happy. Because your time is precious, we have tried to make it easy for you. We have done a little shopping for you and have come up with a few inexpensive and unique ideas for you to check out. The gifts aren't "cheap" but the price is right. Most prices range from $10 to under $25. They make great Christmas gifts for coworkers, holiday gifts, farewell gifts, sympathy gifts, birthday gifts, and even thank you gifts. They are all fun to give and fun to receive.
Some really cute coworker gifts you may want to check out can be personalized. Everyone loves personalized gifts. It shows you did more than grab a gift off the shelf on your way to the checkout counter.
Coworker Gifts for Both Men and Women
This personalized golf water bottle can be used for men and women Golf Earth!© Personalized Water Bottle
. Anyone who enjoys golf and nature will appreciate this one.
A unique travel mug that is designed especially for dog lovers is the 84 Dog Breeds© Stainless Steel Travel Mug
.
The selection is huge. This is a very thoughtful gift for those who love their pets. This same design comes in a Dog Breed© Personalized Coffee Mug
and a Star Dog© Breed Personalized Ornament
. More ideas that are appropriate for both men and women:
The iPhone Seat Buddy

– A helpful item for any coworker that loves her/his iPhone. It makes it convenient to hang the iPhone on just about anything so you don't have to hold it while watching it.

Grid it Panel Organizer

– Do you have a coworker with a lot of gadgets? Get them this convenient organizer.

The Best Electric Corkscrew.

– A very helpful gadget for wine lovers.

Natural Spectrum Book Light

– This gift idea and the two below it will work great for any coworker that loves to read.

The Hands Free Over Ear Book Light.

Travel Book Light

V-Smoker Box with Wood Flavor Chips

– Anyone that loves grilling will appreciate this cool little smoker box.

Executive Monogram© Desk Calendar

You're # 1© Personalized Keepsake Award

You're A Superstar© Engraved Keepsake
Coworker Gifts for Women
There are so many cute mugs available you can certainly find something for almost everyone and some have matching mouse pads. Here are a few good choices: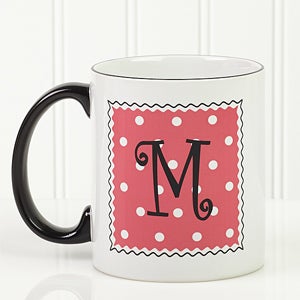 Dot to Dot© Personalized Coffee Mug

Dot to Dot© Personalized Mouse Pad

Dot to Dot© Personalized Travel Mug

Rhinestone Monogram© Personalized Pastel Mugs

Rhinestone Monogram© Personalized Red Mug

Rhinestone Initial Bistro Mug - Choose Black or Lavender

The Meaning of a Name Mugs

Ooh La La Paris!© Personalized Coffee Mug

- This design is so popular it is also available in the

Bag Tag

for anyone who does a lot of traveling; a really pretty photo frame

Photo Frame

;

Pillowcase

;

Note Card

; and

Stamper

.

Cup of Encouragement© Engraved Mug

These are lovely and have a feel good message.
Taking lunch to work can be a great idea for anyone watching their diet or trying to save money; and if she can do it in style, so much the better. She could be the trend setter.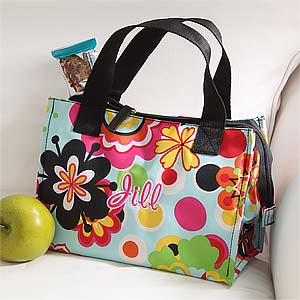 Anytime she needs to keep something cold Flower Power Embroidered Lunch Tote
comes to the rescue. This popular design is also available as a purse Flower Power Embroidered Purse
and a Flower Power Embroidered Fold-Up Tote Bag
. The tote is over $25. Even though it's over $25, I wanted you to know it is available. There is also a water bottle especially for women that comes in three styles and of course, it can be personalized Just Her Style© Personalized Water Bottle
.
This cheerful Dot To Dot© Monogram Desk Calendar
is not only functional, but has a different look for each month.
More ideas are the Rose Tea Warmer and Teapot Set
and the Charming Tails You're A Glamourous Sole Collectible Shoe and Mouse Figurine
.
If one of your coworkers is a grandmother, she will love the Life Is Sweeter Personalized T-shirt
.
More ideas to check out:
Custom Message Silver Oval Locket Keychain

Engraved From The Kitchen of Personalized Recipe Box

Gardeners Personalized T-Shirt

6 Designs© Personalized Mouse Pad

6 Designs© Personalized Coffee Mug

Soccer Personalized T-Shirt

- There are a lot of soccer moms out there. Maybe there's one in your office.

Cast Iron Teapot Trivet Set

Apple Decor Kitchen Basket Decorative Teapot

Lighted Church Music Box Home Decor

8 Piece Heart Trinket Box Set

Fiber Optic Angel Christmas Tree Topper
Coworker Gifts for Men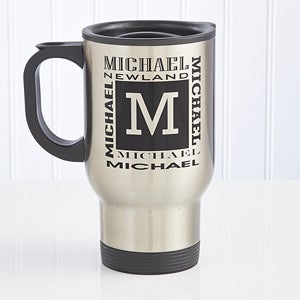 Travel mugs make good gifts because everyone is on the go; and being able to take along coffee or some other beverage is handy and safe—fewer spills. I like the You Name It© Personalized Travel Mug
because it's especially designed for men. It has sharp, clean lines and great looking personalization. Any guy who loves to watch the game while enjoying a cold one will love his own Any Initial Sports Glass Mug
.
Here's a list of more ideas that range from gifts for men who like to grill, to personalized pocket knives, to engraved money clips and more.
Multi-Tool Pocket Knife

Grillmaster Personalized BBQ Apron

Personalized King Of The Grill Apron

Embroidered Chef Apron

Engraved Black Leather Name or Initial Keychain

Engraved Silver Money Clip

35 Quotes© Personalized Coffee Mug

35 Quotes© Personalized Mouse Pad

Golfer's Pocket Knife

Personalized Name Multitool LED Key Chain

Black Licorice Personalized Zippo? Lighter

Executive Personalized Leather Luggage Tag

Engraved Leather Valet Tray

American Eagle Personalized Keepsake
Fun & Humorous Coworker Gifts
Sometimes the best gifts are the funny and silly gifts. All of us enjoy gifts that put a smile on your face. Here are a few cute ideas including some that make great gag gifts for coworkers.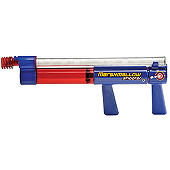 Chocolate Diet Plan

– Got a friend at work that's constantly dieting? Get them started on the latest health fad… the CHOCOLATE diet plan!

Marshmallow Shooter

– Need a gift for a fun-loving (and slightly childish) coworker? How about a marshmallow shooter.

Scorpion Suckers: 4CT Bag

- Yes, these suckers have real scorpions inside. The perfect gag gift for that coworker that hates bugs. Or that guy that says he'll try anything once.

Habanero Spicy Lollipops: 24CT Box

- For the coworker that loves hot and spicy food… or better yet, for the coworker that HATES hot and spicy food - lol!

Giant Gummy Rats Candy: 12CT Box

- For the person that fears all things rodent, torment them with giant gummy rats. Who knows… maybe it will help rid them of their phobia.

Frog Figurine Cell Phone Holder Caddy

Dog Office Desktop Organizer

Christmas Teddy Bear and Snowman Sculpture

Wines A Bit Personalized Apron

Custom Printed Swear Jar

– This one's perfect for that foul mouthed coworker. can be personalized with any name.

Personalized Doormat - Flip Flops Beach House

Where's My Wine Apron

Motion-Activated Barking Dog Holiday Door Sign

- Change his look with the seasons.

Salt Water Taffy Twist Gift Boxes: Set of 2
Gift Baskets
Gift baskets can be easy and packed full of goodies. Often they can be more expensive than the budget allows. But these gift baskets are mini baskets and come within the budget and just perfect for fellow coworkers; especially if you don't know them very well. Here are a few ideas. These baskets are filled with goodies you won't find in the grocery store. Gourmet Gift Baskets takes pride in the quality and content of every basket.
'Mini' Christmas Gift Basket

- This is a choice sampling of both sweet and savory treats.

Taste of New England 'Mini' Breakfast Gift Basket

Flavors of Italy 'Mini' Italian Gift Basket

'Mini' Snack Gift Basket

'Mini' Chocolate Gift Basket

- This basket offers rich chocolate gifts for the chocolate lover: milk chocolate dipped pretzels, Triple Chocolate Dipped Cookies and more.

Coffee Break Mini Gift Basket

'Mini' Healthy Gift Basket

'Mini' Tea and Cookies Gift Basket

Nut Sampler 'Mini' Gift Basket
Holiday Gifts for Coworkers
We have included several gift ideas especially for giving during the Christmas holidays. We have included table decorations, Christmas tree ornaments, even a cookie jar and wine chiller. These are perfect gifts to give during the holiday season.
Fiber Optic Angel Christmas Tree Topper

Stocking Family© Personalized Ornament
Sympathy Gifts
Expressing sympathy to someone who has lost a loved one is one of the most difficult of emotions to communicate. A gift of importance and remembrance can be a source of comfort and let them know you care. You don't always have to give a gift that is designed to be a memorial gift, as long as it's uplifting. These gift ideas are more significant and meaningful and range in price from $25 to $125.
Heirloom Porcelain Bereavement Candleholder: Thomas Kinkade's Loving Remembrance

- This is a beautiful and thoughtful gift idea showing love and caring.

Thomas Kinkade Garden Of Light Collectible Stained Glass Wall Decor

Thomas Kinkade Pools Of Serenity Music Box

Always With You Praying Hands Religious Art Collectible Figurine

Footprints In The Sand Musical Wooden Jewelry Box

Collectible Serenity Prayer Music Box: Christian Gift

Forever With Us In Memory© Personalized Memorial Keepsake

Engraved Love Remember Forever Bracelet

Personalized Military Memorial Wood Plaque
Buying gifts for coworkers for holidays, birthday, thank you gifts and even sympathy should be thoughtful and caring. The gift ideas here are not cheap and thoughtless, but are easy to select, thoughtful and inexpensive. Your coworker will be happy and so will you.
Website Affiliations