Christmas Gifts for Fishermen
When shopping for the best Christmas gifts for fishermen, there are a few important things you need to know. It's a real good idea to know what type of fishing your fisherman enjoys. Do they fish from lakes, streams, rivers, ponds, fresh or salt water? Do they have access to a boat or do they prefer fishing from banks and shores? What do they already have in their tackle box and what gear do they currently use, need or have an interest in. Knowing these things can really help you find just the right gift for your fisherman however, if you don't know these things, don't worry; you're safe with any of the gifts I've listed here!
Unique Fishing Equipment Gifts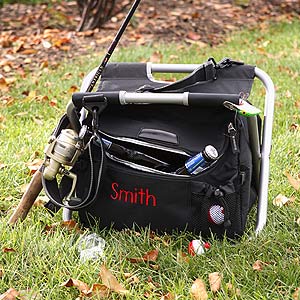 The Only Stand Up Fisherman's Kayak

- That's right, you can fish from this kayak standing up! Utilizing two independent outriggers that pivot outward 45° to its centerline and swing back to allow for paddling makes it possible. A casting brace locks into place when raised for added stability while standing and casting, and a pull-rope built into the hull assists you in rising to a standing position. With two fishing rod holders, a paddle holder and an anchor boom this kayak is ready for action!

The Fish Finding Watch

- This is a great gift for the fisherman! Always know where to drop a line with a watch that finds the fish within a wide 75′ radius at a depth of up to 120′! Even has a pulse-lit advanced sensor for night fishing! Of course it tells the time and date too.

Sit 'n Fish© Personalized Cooler & Chair

- This is one awesome chair/cooler sure to be a well received gift for any fisherman. With the personalized embroidery and lightweight compact design it will soon be a preferred addition to many outdoor activities.

Sit 'n Fish© Personalized Fishing Bucket Cooler

- This fish bucket doubles as a seat with your personalized message printed on it letting everyone know who's bucket it is!
Fisherman Apparel & Accessories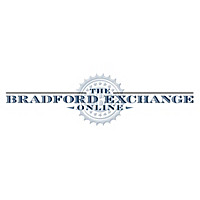 Gone Fishing Men's Leather Jacket

- Fishing is more than a pastime, for some it is a lifestyle. This fishing-themed classic leather bomber-style jacket is the perfect gift for them to declare their passion for fishing in style.

The Bass Sportsman Men's Ring

- Any fisherman would be proud to own this exquisite 24K gold-plated sterling silver and black onyx ring depicting the unrivaled fight between fisherman and largemouth bass!

Gone Fishing Sportsman's Watch With Compass: Gift For Fisherman

- This watch says it best! Etched on the underside along with a fish silhouette is the saying: "A bad day fishing is better than a good day working." It's handcrafted in stainless steel with a canvas and leather strap embossed with a trophy fish at one end and a working compass at the other.

"Rapid Strike" Bass Fisherman's Leather Wallet

- Enjoy the rich full-color reproduction art by tournament fisherman and award-winning wildlife artist Al Agnew on the front side of this sturdy handcrafted leather wallet and the words "Rapid Strike" embossed on the inside.

Gone Fishing Personalized Polo Shirt

- Fishermen will love wearing their (soon to be) favorite personalized fishing polo shirt with their name or initials on it celebrating their favorite pastime, fishing!

Fly Fishing Personalized T-Shirt

- The Fly-Fishing enthusiast with a sense of humor will certainly love this personalized T-Shirt that says what every fisherman already knows, "the way to a man's heart is through his fly."

Fisherman Of The Year© Apparel & Accessories

- They will proudly let the other fishermen know who can fish the best with the Fisherman Of The Year© personalized T-Shirt that is sure to be loved!

Hooked on You© Apparel & Accessories

- Tell the fisherman in your life how much they're appreciated with the "Hooked on You" fishing-themed T-Shirt personalized with their name and the names of those that are "hooked"!

Big Fish & Small Fry© Personalized Clothes

- This is the perfect fishing gift for Dad and his little fishing buddy! They will absolutely love wearing their personalized fishing shirts every time they go fishing together!

Hook'em and Cook'em© Apron & Potholder

- If the fisherman in your life loves to cook up what he catches, then let him know you love it too! Both Apron & Potholder can be personalized with their name or title.

My Dad Is Better© Personalized Clothes

- This is a great way to let everyone know that your Dad is a better fisherman than their dad. After all, it just wouldn't be fair to the other fishermen to keep it a secret!
Keepsake Gifts for Fisherman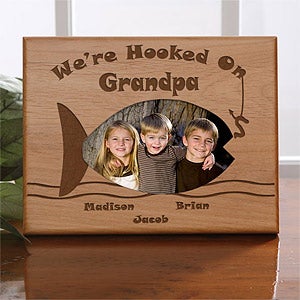 Fishing Memories Photo Album

- Keep all your fishing pictures and stories in this personalized fishing photo album that can be shared for many years to come.

Hooked On You© Personalized Frame

- Let the fisherman in your life know how special they are to you all with the Hooked On You© Personalized Frame that will be cherished always.

Fishing Pro© Personalized Frame

Fishermen will be proud to display their "big catch" picture in the "Hook, Line and Sinker" frame, personalized with their name, special event, or any message you choose with fish and hook graphics laser engraved around all sides.
Fishing Novelty & Decor Gifts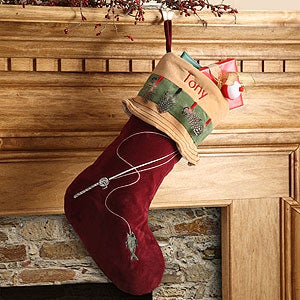 Trophy Time Decorative Wooden Cuckoo Clock: Largemouth Bass Fishing Art Wall Decor

- This classic cuckoo clock combines the bass fishing art of Al Agnew and the sculptural styling of handcrafted wood, with the elegance of golden hands, swinging brass-toned pendulum and hanging pinecones.

Fishing Pro© Personalized Stocking

- Give them this elegant velvet Christmas stocking with embroidered fishing pole and 3-D fishing lures made of genuine feathers personalized with their name embroidered across the front making this the perfect Christmas stocking for any fishing enthusiast!

WDCC Goofy and Wilbur ''Fishing Follies'' Figurine

- Celebrating the 75th anniversary of Goofy's first starring role, ''Goofy and Wilbur'', this adorable statuette portrays Goofy and his pet grasshopper, Wilbur out on the boat enjoying a day of fishing.

Catch Of The Day Snowman Figurine

- Every fisherman has experienced reeling in what feels like a big one but turns out to be something else entirely. This timeless fishing scenario is cleverly depicted in this artfully hand-sculpted snowman figurine.

Personalized Fishing Wall Sign

- Any fisherman will enjoy this personalized custom printed Bait Shop fisherman metal wall sign hanging on the wall of their garage, shed or summer cottage.
Fisherman Ornaments
Fisherman Ornaments

- Choose from several fishing-themed Christmas ornaments that can be personalized for any of your favorite fishermen! Available in the very popular Gone Fishing©, Christian Fish© and Hooked on You© fishing-themes.

Fisherman Ornament

A great gift for the fisherman that loves to tell stories about their fishing experiences and the "questionable size" of the one that got away! Personalized with any name & year.

"Bear Gone-Fishing" Christmas Ornament

This adorable "Bear Gone-Fishing" Christmas Ornament is carefully hand painted and personalized with any name you choose.
Fisherman Food
Gift Baskets for Fishermen

- Choose from several fishing-themed gift baskets filled with thoughtfully selected complimenting items sure to bring a smile to the face of any fishing enthusiast.

Swedish Fish Candy: 5LB Bag

- Everyone loves Swedish Fish Candies perfect for nibbling while casting a line or anytime!

Gummy Brown Earth Worms Candy Packs: 100CT Box

- These brown gummy worms look and feel like real, slippery night crawler bait worms. Take them fishing with you and eat them as though they are real earthworms and gross-out your friends!

Swedish Fish Treat Size Packs: 16CT Bag

- These delicious Red Mini Swedish Fish candies are packaged in snack size pouches maintaining their soft chewy freshness. Perfect for sharing with others and ready to take with you wherever you may go!
It has been a genuine pleasure to share some of my top picks of the many possible Christmas gifts for fishermen available. I hope you find this article helpful in selecting perfect gifts for all the fishermen in your life.
Website Affiliations