Christmas Gifts for Men
When shopping for men it's always a good idea to keep their interests in mind. You don't have to throw up your hands in dismay and go buy him another sweater. What does he like to do? What are his hobbies? What's that? He doesn't like to do anything? He doesn't have any hobbies? Let's think it over.
Does he like golf, or fishing, or sports; maybe watching sports? Most men like gadgets. Especially if it's a gadget that no one else has. Many men are into barbecuing and grilling. They enjoy it and so does everyone else.
If he loves professional sports, we have many gift ideas there, too.
Does he enjoy movies or music? Maybe he just enjoys relaxing in front of the T.V. with a bowl of popcorn or maybe some good snacks.
Does he do a lot of traveling? There are many gift ideas for the traveler and adventurer. I've done a little research for you and have a few ideas to offer. I hope this helps.
Gadget Gifts for Men
Men love gadgets. Even little boys love gadgets; they start their love affair with electronic and music items and anything unusual very early; so we set out to find some terrific gadgets men love.
The Palm Sized DVD Player: It's small enough to hold in the palm of your hand and fits in a purse or jacket pocket. Whether he's on the plane, waiting in the Doctor's office or riding the bus or train, he can be entertained.
The Portable iPod Video Enlarger And DVD Player is just the gadget he needs to watch videos on a 9 inch widescreen with active matrix technology which basically just means much better video quality. It has duel 3.5mm stereo headphone jacks for use by two people so he doesn't have to watch alone.
Put on the glasses, connect to a video iPod, iPod Touch, iPhone, portable DVD player, or personal video game system and enjoy The Only 55 Inch Widescreen Personal Movie Theater. This is the same as watching a widescreen 55" screen from 10 feet away. It uses two high-resolution LCDs and dual stereo noise isolating earphones. This technology was developed from the U.S. military. It's amazing and fun. This is a gift he will truly be excited about and totally blown away. He might even let you borrow it once in a while. You may also be interested in The Portable DVD Player. It's not much larger than a DVD and can be carried in a briefcase or carry-on. It can be used with the Widescreen Movie Theater. It connects easily to a television or any device with composite audio/video inputs and operates on its rechargeable battery or AC power.
One of the most exciting new cameras on the market is The Only 3D Video Camcorder. It fits in his shirt pocket and records in true 3D. No glasses required. The camcorder can also shoot standard movies and pictures for display on the media player in 2D. He'll love taking movies of the kids on the beach, at Christmas or maybe when he catches the big one.
He might enjoy The Shirtpocket Digital Television. This won't work when he's on the move, but it may save his sanity when he's hanging around doing nothing. And it has a headphone jack that enables him to listen with his own headphone without bothering others. Another shirt pocket find is The Shirtpocket Radar Gun. This could be fun at a baseball game to monitor the speed of a pitch or even monitor the speed of the pitch of his own future all star, or find out how fast his kids can run, or find out how fast his R.C cars can go. (R.C. cars are big on the hobby list.)This one is a fun curiosity gift.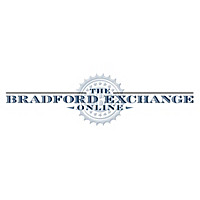 The Peaceful Progression Wake-Up Alarm Clock
could turn out to be one of his favorite gifts. It will awaken him naturally with gradually increasing light, aromatherapy scents, nature sounds. It has a snooze button, headphone jack and of course volume control. This is a top seller. I can see why.
The Video Recording Sunglasses is perfect for recording the kids playing on the beach, capturing his kid's homerun without having to worry about a camera. He'll find lots of occasions to record and share with his family when he copies them to his computer.
How often does he misplace his cell phone? That won't happen with The Cell Phone Watchdog. This little gadget sounds an alarm when he and his cell phone are separated more than 30 feet. He can clip it to his belt or attach it to his keys. Problem solved—as long as he doesn't lose his keys. This one by the way is winner of the "Best of Innovations" award at the 2010 International Consumer Electronics Show. I just thought you might like to know what a great gift this really is.
This is just a sample of the great gadget gifts available. There are many more gadget items that make wonderful gifts.
Music Gifts
Music makes life a little easier, a little more fun and a lot happier. When the sound quality is poor the music is not very enjoyable, but when we have good systems working for us we can relax away the tension or jam away the tension.
If you're looking for in ear headphones I can personally recommend The Bose® In Ear Headphones
. My son has a set and he says they produce the best sound of any ear buds he has heard and they're the most comfortable.
Check this one out. With the Wireless MP3 Shower Speakers
he can listen to music while in the shower. Just plug iPod, iPhone or MP3 player into the transmitter which can be 150' away and the wireless MP3 shower speakers sound amazing.
Since your guy likes music, he'll love The Sharper Image® Touch MP3 Video Player.This 4 Gigabyte MP3 player is all about enjoying your music and videos – wherever, whenever, even without headphones. But they include high quality headphones. He can listen either way. There's another great product out there that he'll really appreciate. Get him The MP3 Music and Video Player Keychain. Everytime he walks out the door with his keys in hand, he'll also have his MP3, because it's attached to his keychain. Clever!
Has he been complaining about not being able to hear his music because of the noise around him? He needs The Best Noise Cancelling Earbuds. These are said to cancel up to 85% of background noise. He'll like that!
Fine Leather Gifts for Men
When it comes to clothing and accessories nothing is as appealing as fine leather. And some of the finest quality leather products in the world come from Aspinal of London. These leather gift ideas are intended for the sophisticated gentleman that wants to look and feel his best.
Aspinal's Cashmere Lined Leather gloves are a luxurious way to keep his hands warm and toasty on those cold winter days. Oozing with refined style, these gloves are handmade from the finest English leather Nappa kid skin and feature hand stitched details from the finger tips to the back of the hand. But what sets these gloves apart is definitely the comfort of that soft, warm cashmere lining. They are available in brown, black and tan leather.
You can't go wrong with a Leather Billfold Wallet from Aspinal. What I love about these wallets, besides having multiple options of gorgeous leather designs, is that they also make sure to get every last detail right. For example, Aspinal uses luscious soft-suede for the inner lining and silk lined hidden pockets. These wallets are available in smooth Bridle, Safari Mock Croc Calf and Jewel calf leather. They each have ample space with 8 credit card pockets, 2 large multi purpose pockets and 2 full length pockets for cash or anything else.
Another great gift option is The ID & Travel Card Case. This one is a personal favorite of my son's. He loves it because in addition to looking stylish it also functions perfectly as a front pocket wallet. So if the man you're buying for prefers something smaller than a regular billfold, this will work. They are available in Jewel Calf, English Bridle or Amazon Croc Calf leather. Each one has soft suede lining, two credit card compartments, a windowed compartment for his ID and a hidden silk lined compartment perfect for storing cash. My son went with The Smooth Black English Bridle Leather & Cobalt Blue Soft Suede with personalized blind embossing. You might also consider The Double Fold Credit Card Case as another great option for a smaller sized wallet.
Here are a few more great leather gift ideas:
More Leather Gifts for Men…
Sports Gifts
Golfing, fishing, football, and sports in general are of major interest to most men. That's part of relaxing and unwinding on the weekends. If they aren't participants, they're spectators.
Outdoor fun can be camping along with the fishing. It could include various water sports. Many gifts are available to make his Christmas very merry. Let's start with the gifts for the sports fan.
Gifts for the Sports Fan
NFL Gifts
Men who love professional football will get a kick out of anything that's NFL. He'll love having an NFL Men's Jersey of his favorite team (an NFL Autographed Jersey would be even better!). You can give him a jersey of his favorite player, an NFL Team jacket, something for the kids, just about anything you can think of when it comes to apparel. If you don't know exactly what you want, don't worry, you'll be able to find All NFL Gear.
If you think he might like NFL Home Decor or NFL Memorabilia you can find almost anything and everything you can imagine—even items for NFL tailgating, grilling and NFL automotive accessories. It's mind-boggling. You can find NFL home bedding, NFL kitchen decor, NFL wall hangings, NFL furniture, NFL clocks and more, more, more.
An NFL Autographed Helmet would be an especially cool gift! The Chicago Bears helmet pictured to the left has been personally hand signed by Dick Butkus, Mike Singletary and Brian Urlacher. How cool is that?! Can you imagine how completely blown away your guy will be with an NFL helmet signed by some of the greatest players to ever play for his favorite team?! And there are autographed NFL helmets available for every team. Many teams have more than one option and most helmets have been signed by multiple players.
He'll love decorating the yard on game day. That's easy to do with The Giant Inflatable Standing NFL Player. Or he might prefer The Giant Inflatable Crouching NFL Player. Choose your team and blow this guy up to 102" tall with 3' wide shoulders. The standing player and the crouching player come with their own pump and 6' electrical cord.
Give him his favorite NFL Personalized Player Photo. Choose from 21 NFL players and a reproduction of the player's signature along with a choice of personalization. Or how about an NFL Autographed Photo.
There are even gift baskets for the NFL fan and they are quite phenomenal. The Extreme Tailgating Super Bowl Gift Basket
has 6 different brews (2 each), Lemon White Chocolate Cookies, Lincoln Snacks Poppycock, Hors D'Oeuvre Crackers, Hot Pepper Round, and the list goes on with many more gourmet snacks, dips, chips and on and on. Check it out; it's an impressive basket.
If you want all the goodies, but without the beer, you can have that as well. The basket still has the delicious gourmet award-winning snacks, so you won't miss a thing. Super Bowl Tailgate Party Gift Basket
MLB Gifts
If he loves Major League Baseball, he'll love some stylish MLB Apparel for Men. You'll find custom Jerseys, authentic jerseys, throwback jerseys, MLB footwear, hats, jackets, sweatshirts, pajamas, shorts, you name it, and they've got it.
Maybe he would like something in MLB Home Decor. He might like an MLB blanket or throw, bedding, bath accessories , flags, furniture, even MLB Automotive accessories. We're not done. Under MLB Memorabilia you will find MLB autographed hats, autographed bats, autographed balls, autographed jerseys, even MLB Collectible Baseball Gloves. And there's a whole lot more.
More stuff to check out:
MLB Tailgating, Outdoors & Automotive
Personalized MLB Scoreboard Print
All MLB Gear
NBA Gifts
Professional Basketball is popular and you'll find everything you need to make that fan of yours happy.
You'll find NBA Apparel for Men with jerseys, footwear, long sleeve shirts, NBA accessories such as watches, wallets even lapel pins.
He might enjoy a good looking NBA jacket. You will find light weight, heavy weight, fleece, and a variety of styles. And don't forget the NBA slippers and socks and NBA hats and long sleeve shirts and short sleeve shirts and Polos and NBA shorts and NBA pajamas. They have it all. If you want to find something different check out NBA Home Decor. You'll find automotive accessories, blankets and throws, bedding, clocks, kitchen supplies including aprons, mugs, toasters and more. They have items as large as furniture and as small as NBA games and toys. You will find NBA Poker accessories, NBA toys, NBA game controllers and more. I've only mentioned a few categories.
There's a whole lot more:
NBA Men's Jerseys
NBA Memorabilia
NBA Tailgating, Outdoors & Automotive
All NBA Gear
NCAA Gifts
Guys love supporting their Alma Mater. It will be easy to find a gift supporting his favorite team. Shop All NCAA Gear and find jerseys, hats, hoodies, and items for women and kids. We all love for our kids to support our team. If you're looking for bedding, computer or media accessories, wall hangings even clocks you will find it at NCAA Home Decor. Also included in this section are NCAA Toys and Games such as Billiards accessories, Dartboards, puzzles and more.
More shopping ideas:
NCAA Men's Jerseys
NCAA Apparel for Men
NCAA Memorabilia
NCAA Shop by Sport
NCAA Tailgating, Outdoors & Automotive
NASCAR Gifts
If you're looking for NASCAR items you'll find a world of gifts at NASCAR Merchandise. You'll find apparel for kids and adults, home décor, jewelry, tickets and more. Who's your favorite driver? Dale Earnhardt Sr.? You can find watches, wallets, a DVD of Dale Earnhardt's Whitetail Adventures (GG-15440), framed photos and more. Dale is just an example. Name your favorite driver and go. They have everyone. Are you looking for NASCAR apparel? You'll find men's hats, jackets, shirts, men's T-shirts; NASCAR baby clothes, youth apparel, and big kids apparel. The women are not forgotten. You'll find women's hats, jackets tops, T-shirts, accessories and even jewelry. How about a Jimmie Johnson - Pit Stop - Personalized Mouse Pad? Or a Jeff Gordon DuPont Black Adult Twill Jacket ? Or a Tony Stewart Beyond Victory Crewneck Sweatshirt? There are so many ways to shop. Shop by color, shop by size, or shop by driver. Are you interested in Home Decor? You'll find flags, banners and pennants, even Christ tree ornaments. Shop NASCAR Holiday Decorations and you'll find a Jimmie Johnson light-up snowman ornament, a Tony Stewart light-up snowman ornament, and Jeff Gorden, Tony Stewart, Denny Hamlin and Kasey Kahne. They even have plush snowmen and a couple of wreaths. It's a fun place for NASCAR fans to shop till they drop.
NHL Gifts
For the Hockey fan, there's a lot in store. As with the other sports NHL Jerseys are a great place to start looking for a NHL gift. They have all the teams in a variety of jersey styles including NHL Authentic Jerseys, NHL Customized Jerseys, NHL Thowback Jerseys and the list goes on. If you want more than just a jersey you might check out NHL Apparel for Men. You will find NHL Long Sleeve Shirts, NHL Men's Accessories, NHL Men's Hats, NHL Men's Jackets, NHL Men's Sweatshirts and the list goes on. NHL Home Decor covers just about everything you can imagine. They have NHL Automotive Accessories, NHL Bedding, NHL, NHL Blankets and Throws, NHL Wall Hangings and Flags. They have NHL Furniture, NHL Toys and Games and more of everything.
They also have:
NHL Memorabilia
NHL Tailgating, Outdoors & Automotive
All NHL Gear
Soccer Gifts
If your guy loves Soccer, there's lots of Soccer gear available that make great Christmas gifts. You'll find World Cup Champions Gear, hats, jerseys, even Soccer Flags. You can shop by MLS teams, National Teams, and International Teams. You can also shop for Soccer Home Decor such as clocks, bedding, kitchen, flags, wall hangings and more.
More ideas at:
Soccer Men's Jerseys
Soccer Apparel for Men
Soccer Memorabilia
Soccer Tailgating, Outdoors & Automotive
If he goes to a lot of sporting events, he probably gets tired of those hard stadium seats. He needs a personalized padded stadium seat
to sit on. That will make the event much more enjoyable.
For the men who work out, meet the guys for a game in the park or for sports practice give him a personalized sports bag
to carry his equipment in. It makes life easy and stylish at the same time.
A personal sentimental gift from the kids to Dad will mean a lot. Let him know how special he is with the You're An Allstar! Personalized Baseball.
Get it personalized with something like "World's Greatest Dad." Coming from the children, it will always be a treasure.
Collectible items are special because they have meaning for the recipient and they won't wear out. They are keepsakes for a lifetime. Here are a few suggestions for the sports lover including NASCAR.
NFL Football Team Collectibles

MLB Baseball Team Collectibles

NASCAR Collectibles

NHL Hockey Team Collectibles
Gifts for the Golfer
If you're looking for a gift for a guy that is fortunate to play at many famous golf courses in the U.S. , The Golf GPS is a gift that will give him an edge. It's not cheating, but it will certainly give him an advantage. It has full 3D hole layout that shows the yardages to every hazard or target, plus the front, center, and back of the green and over 16,000 U.S. courses preloaded. The avid golfer will love this one.
He loves playing golf and walking the course for exercise, but does he love carrying that heavy golf bag? The answer is the Electric Golf Caddy. It's sturdy enough to carry his clubs and lightweight enough to lift in and out of the car. It's electric and will go 6 MPH and it's strong enough to go up hills. He'll love this gift and so will his back. Of course, this electric model may be a little more than he needs. He might prefer The One Step Folding Golf Cart. It's not electric and is a little cheaper. It's lightweight, easy to fold and won't tip over.
When he's out on the course and getting hot and thirsty, he can reach for his Golf Club Drink Dispenser. It comes with a real head and shaft, but it dispenses his favorite hot or cold drink. It's battery operated and holds 54 ounces in a bag that is tucked in his golf bag. This could become one of his favorite clubs.
After he gets home, he'll want to clean his golf clubs. The Motorized Golf Club Cleaner will make it easy. The four interchangeable cleaning and polishing heads keep his clubs ready for the greens.
When he has a hard time finding his ball, The Golf Ball Finding Glasses
could come in very handy. They block out the light reflected by darker background objects making it easier to see lighter objects such as golf balls. There is also a version that fits over glasses. The Golf Ball Finding Fit Overs for Prescription Lens Wearers.
He will love The Most Realistic Home Golf Simulator
. This golf simulator that allows play at championship golf courses from the comfort of home. It includes EA Sports Tiger Woods PGA Tour 2008 software which visually renders your shots on a PC or television. He can still have fun, even when he's stuck inside.
Personalized Christmas gifts are really nice. They're easy on the pocket book and make great stocking stuffers. He might like a Golf Pro© Personalized Golf Towel
that can be monogrammed with his name and initial. He can mark his spot on the green and there's no more guessing with the Monogrammed Golf Ball Markers
. Another gift idea is the Nike® Personalized Golf Shoe Bag
. It looks good, is durable and can be monogrammed. Another personalized gift idea to go with the bag is the Golf Pro© Personalized Bag Tag.
Personalize with any four lines of personalization on one side and his initial on the other. Another choice on the shoe bag is the Black Leather Golf Shoe Bag. It's not personalized, but is of very high quality.
Another personalized product from Nike is the Personalized Nike Dri-FIT® Golf Polo Shirt. His initials are personalized on his right sleeve.
A keepsake box made of elegant cherry wood finish with green felt lining and the classic golf club crest with his single initial personalized above his full name is a lovely Christmas gift idea. Inside the box are 6 quality Top Flight Complete Distance Golf Balls with his single initial and traditional golf crest design. Monogram Golf Ball Set & Keepsake Box©.
Another Christmas gift idea the golfer might enjoy is a golf-themed Gourmet Gift Basket
. They're very popular and always have lots of delectable award winning goodies. It's an easy way to give a gift and one they will always appreciate. 19th Hole Golf Gift Basket™, Golf Gift Basket Hole in ONE Golf Bag™, Hitting The Range™ Golf Gift Basket, Round To Remember™ Golf Gift Basket.
Here are a few more golf gift ideas you might like to check out:
Golf Memorabilia and Wall Hangings

The Golfer's Personalized Travel Map
Top 10 Golfers© Apparel & Accessories

You Name It© Personalized Golf Club Cover

Classic Embroidered Monogram Polo Shirt
Gifts for Fishermen
A really nice Christmas gift that is over the top and might be that special and unique gift you've been looking for is The Only Stand Up Fisherman's Kayak.
The unique design of this kayak enables the fisherman to sneak stealthily into the best fishing spots without the noise of an engine and to fish from a standing up position which can be hugely beneficial and something that is virtually impossible to do in a standard kayak. An awesome piece of equipment.
Another good choice for a Christmas gift for the fisherman is The Ventilated Brimmed Hat. It provides UV protection and promises to keep the head cool.
If you're looking for a fish finder for a Christmas gift, this might be just what you're looking for: The Fish-Finding Watch.
That's right. He won't have to hold it in his hand or attach it to the boat. He can wear it like a watch because it is a watch displaying time and date. The sensor reads to a depth of 120 feet. The remote sensor runs 500 continuous hours and turns off when removed from the water. Every angler wants to know where the fish are. He'll love you for giving him this one!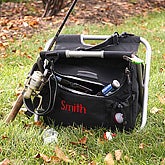 A great piece of equipment he'll enjoy when fishing on the bank at the edge of a pond or river is the Sit 'n Fish Personalized Cooler & Chair. It's easy to carry, holds up to 24 cans and chair is easy to open. It's not just for fishermen, it's also good for picnics, a day at the park or at the sports field. It's small and convienent. Another similar idea is the Sit 'n Fish© Personalized Fishing Bucket Cooler
Personalized gifts for the fisherman are fun and very special. It shows you took the time to have his name or initials placed on it so that it is personally his. Here are a few links you might want to check out:
Fishing Pro© Personalized Stocking

Hooked on You Shirts, Mug & Mouse Pad

Fisherman Of The Year© Apparel & Accessories
Fishing Apparel and Accessories
A beautiful and still rugged jacket is the Gone Fishing Leather Jacket. Men look good and feel good in leather and this brown leather jacket is styled especially for the fisherman. The back of the jacket showcases the full color wide mouth bass artwork of Al Agnew across the shoulders and embroidered fish artwork on the front. It's a beautiful, masculine jacket. More Agnew artwork is displayed on this "Rapid Strike" Bass Fisherman's Leather Wallet.
The "Gone Fishing" Engraved Sportsman's Watch with Compass is a great looking watch he will enjoy wearing every day, and it's not likely he'll see another one like it. It's stainless steel with a brown leather and canvass strap, a compass and 3 chronograph subdials and an etched fish silhouette on the leather. It's a handsome watch. He also might like The Bass Sportsman Ring
. It's a beautiful and unusual piece of jewelry with sculptural leaping bass design, black onyx inlay, 24K gold-plated sterling silver, and inscribed band.
Personally, I think all three of those items, the Gone Fishing Jacket, the Gone Fishing Watch and the Bass Sportsman Ring, as a single gift set would be an absolute thrill for any serious fisherman. Yes, I know these aren't cheap, but that's exactly the point! They are very high quality. He's going to look great and just imagine how he's going to feel!
These personalized shirts keep the fishing theme going and are really cute. You might even find one the kids might like to give.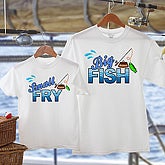 Outdoorsman
If your man loves outdoor adventure of any kind, you're probably looking for gifts that will keep him comfortable and increase his safety. A good vest is the place to start.. There's another handsome choice he might find to be just right – The Photojournalist's Travel Vest. It has 16 pockets that keep essentials within easy reach plus hand warming pockets and a great Khaki look. When warmth is the primary concern The Best Heated Vest will keep him toasty warm for two hours on its high setting and nine hours on its low setting. This is the heated vest that surpassed all other models in heating ability and comfort in side-by-side evaluations by the Hammacher Schlemmer Institute. Two more vests you might like are The Heated Pocket Vest and The The Removable Vest Lambskin Jacket.
Epuipment & Tools for the Outdoorsman
Another handy gift idea that is great when he is camping is The 14 Day Lantern. Yes, it gives 14 days of continuous light on four D batteries. The LEDs use less energy, are safe for children and are uninteresting to insects. It also has low and high settings. A camping must for most situations is setting up the tent. He would love a simple way of doing this—enter The Instant 7 Person Tent. It pops up in 60 seconds and will accommodate up to seven sleeping bags. It is 6 ½' high at its central peak and is 82 square feet of floor space. The twist of a dial on the frame allows you to collapse the tent so that it fits inside the included shoulder bag. The tent is made from durable, waterproof polyester, it secures to the ground with four included stakes, and comes with a removable rainfly. A gift idea that any camper will enjoy during the winter months is The Only Heated Portable Chair. Undetectable carbon fiber heating elements woven into the chair heat from 120º F to 140º F to warm your legs and posterior. The built-in rechargeable battery powers the heating elements for up to four hours on the lowest setting and up to 2 1/2 hours on high. He'll really love and appreciate this gift.
Anyone who loves the outdoors needs good Binoculars. The Superior Clarity Binoculars are the high-definition binoculars that deliver crisp images without the color distortion or lack of contrast common to lesser models. They provide 10X magnification with an extremely wide field of view of 341′ at 1,000 yards and can still focus with clarity, objects only 6 ½ feet away. He might like The World's Longest Zoom Binoculars if he's interested in seeing the flick of a deer's ear at 500 yards away. They easily adjust from 20X to 144X with the simple press of a lever providing sharp, clear images. He may prefer The Best Compact Zoom Binoculars. In tests conducted by the Hammacher Schlemmer Institute, these compact binoculars delivered the best combination of image quality, ease of use, and durability. They provide 8X to 16X magnification that remain sharp and bright at any distance.
The 12-in-1 Survivor Tool is a must-have for emergencies at home or in the wilderness. Crank the handle and generate power when you need it. This emergency tool combines 12 crucial tools into one handheld emergency survival kit. It contains a panic alarm, LED flashlight, digital FM radio, motion activated security alarm, red emergency flasher, cell phone charger, AC charging adapter input, compass, self charging hand crank, signal mirror, thermometer, and lanyard. This could be a real life saver.
My favorite gift idea is The Transparent Canoe Kayak. What could be more fun than paddling along in your canoe and looking at the sea life underneath you? The sturdy canoe hull is made of the same durable material found in the cockpit canopies of supersonic fighter jets. It's easy to maneuver and has adjustable seats for persons of different heights. The paddlers sit lower to the deck for better balance. The light weight aluminum frame makes it easy to transport. It includes two double-headed paddles, a water bailer, and two flotation devices. On calm waters, this looks like great fun. Don't forget to wear coast guard approved life vests and it's recommended for ages 16 and over with parental supervision. For greater stability, you may also need the Outrigger System sold on the same page.
If he enjoys under water activities, especially if he likes taking underwater pictures of the children in the pool; or perhaps beautiful fish or corals when snorkeling on an island vacation is The Only Digital Camera Swim Mask.
This 5 MP camera can operate to a depth of 15' and pictures can easily be downloaded to a PC or Mac. It can store up to 30 high resolution pictures or 52 seconds of video. A microSD card slot allows you to expand memory for additional pictures or video. Two more swim masks are The Best Swim Goggles and The Best Swim Goggles.
Hats for Outdoorsmen
Anytime he's outdoors, he should wear a hat no matter what time of year it is. We all know about protecting ourselves from the sun. Not only do we have the UV rays to worry about, we also have the heat or cold and insects. Men can be picky about their hats, so we've selected several for the outdoorsman for you to check out.
The Drover's Kangaroo Bush Hat - This one is made of kangaroo leather and is much softer and more durable than cowhide. Exceptional sun protection.
The Uncrushable Leather Hat – He can pack this one in his suitcase and even crush it and it instantly pops back to its original shape.
The Insect Repellent Hat – Provides safe protection from mosquitoes, ticks, no-see-ums, and black flies.
The Packable Panama Hat – Exclusively from Hammacher Schlemmer this hat springs back to its original shape when unpacked. It is made in Ecuador from bleached leaves of the Toquilla palm.
The Nor'easter Waterproof Hat - Its laminated 100% nylon exterior repels water while its seam-sealed interior guarantees your head will stay dry. In windy conditions, the hat ties on with a cord in the front and back of your head. Includes a secret pocket in the crown.
The Evaporative Cooling Brimmed Hat – All he has to do is run water over it, shake off the excess and wear. It conducts body heat outward, while retaining the cool water and releasing it slowly through evaporation, cooling his head. Its ventilated crown also provides cooling.
The Ventilated Brimmed Hat - Has nylon mesh on the sides to reduce heat buildup, so it combines superior sun protection with cool ventilation.
Here is a list of more gift ideas for outdoor comfort and fun:
The Best Men's Slip-On Waterproof Shoe

The World's Most Rugged Digital Camera

The Handheld Water Purifier

The World's Most Rugged Watch

The Packable Walking Stick
Barbecue, Grilling, Beer and More!!
Men love the outdoor scene and part of the outdoor scene is barbequing and grilling, relaxing with friends and maybe enjoying a cold one. There are several gift ideas that we thought your special guy would like.
For the man who is really into cooking, The Roaster/Smoker/Grill
is a complete outdoor system that will eliminate the need for several cooking systems. It has three parts: the charcoal basket, the cooking chamber and a lid. He can smoke or roast meat or remove the lid and cooking chamber and use it as a grill. It even has an accurate temperature gauge on the grill. This item is on sale and quantities are limited. If you're interested, don't wait around. Sale items go quickly.
Another useful item for getting the coals going quickly using hot air is The Only 60 Second Charcoal Starter.
The big advantage is he won't have to use lighter fluid.
He will especially appreciate The Grill Comfort Shade.
It attaches to the grill and adjusts to any angle. It's mildew and rot resistant so it can be left outdoors. It's not an ordinary umbrella. It's job specific and it does its job.
Another great help in keeping him comfortable while he's grilling and barbequing is The Cool Mist Outdoor Fan.
Even though he loves to cook outdoors, he'll love it even more when he's comfortable and cool.
Any good cook wants his utensils close at hand. The Grill Master Ultimate 4pc Apron Set
was made for just that purpose. This clever apron can be personalized and has several pockets for his utensils and an insulated pocket for a cold refreshment. It also includes a detachable bottle opener, a padded oven mitt and towel.
He will need good grilling utensils and of course they should be personalized so everyone will know who the master of the grill is. The Grill Master BBQ Utensil Set
includes 18" spatula, 18" fork, 15 ½" chef tongs and 18" basting brush.
If you want to make his grilling experience really fun, exciting and mouth-watering, you must check out the grilling and BBQ gift baskets
at Gourmetgiftbaskets.com. You will find an amazing choice of gift baskets for the grill. He will be grilling like Bobby Flay with any one of these fabulous baskets; sauces, rubs, seasoned skewers, grilling planks and more come in these baskets. Not everything is in every basket, but every basket offers a power house of flavorful cooking.
With all that cooking going on, he's bound to get thirsty. And if the gang is coming over to enjoy this incredible cookout The Countertop Beer Cooler And Tap
could come in very handy. It holds a 5-liter keg of beer and has an integrated tap that allows him to draw tavern style beer with a creamy foamy head.
Another fun idea that everyone will get a kick out of is The Remote Controlled Beverage Cooler.
He can serve his guests with his handy remote control. That's right. He can send that remote controlled beverage cooler right to his guests. It will hold 12 bottles or cans and ice and it has a zippered lid to keep everything cold.
If your guy and his friends like brews from all over the world, GourmetGiftBaskets.com has a new line of beer gift baskets that will bring the world to the party. Here is their top example. Around The World Beer Bucket with 12 Beers.
The basket is actually a galvanized steel bucket that holds 12 beers and also includes award-winning gourmet snack foods. The 12 different beers come from 12 different countries including Ireland, England, Germany, Japan, Australia, Canada, China, Thailand, Belgium, Jamaica, Mexico and the United States. Gourmet Gift Baskets considers this to be the star in this collection.
Another gift idea that is worth considering is food gifts from GourmetGiftBaskets.com. They offer the most amazing variety of food gifts I have ever seen. Here are some categories that are enjoyed by most men—in fact, these baskets are enjoyed by everyone.
The snack gift baskets
include only gourmet snacks from Raspberry Honey Mustard Pretzel Dip to cocktail nibblers, to potato chip cookies and cookie brittle; raspberry peach champagne jam and original cheese straws. Every product is not in every basket but all products are award winners from the International Fancy Food Show and received praise from Gourmet magazine, experts at Food and Wine and Gourmet retailer.
The chocolate gift baskets will take any chocoholic on a journey to chocolate heaven. All of the gourmet chocolates in these baskets are award winners. You won't find them in the grocery store which make these gift baskets all the more special: chocolate brownie cookies, chocolate covered cherries, chocolate covered pretzels, chocolate crunch. The chocolate lover's gift baskets are only a click away. Chocolate Gift Basket Premium - Sweet Decadence.
If he loves pizza and Italian food GourmetGift Baskets.com has everything he'll need. The Gourmet Pizza Making Gift Basket
contains a pizza cutter, pizza stone, and all the makings for a delectable Tulocay's award winning pizza. The Bella Italiana - Italian Gift Basket
is the most impressive in the collection. It contains everything for a full course meal from appetizers to dessert and award winning foods that will make an evening of authentic Italian dining he won't soon forget. The list of ingredients is impressive and nothing has been overlooked, including (2) Bella Crema Cappuccino Café Espresso by Coffee Masters. For more Italian gift baskets, go to GourmetGiftBaskets.com and you'll find more choices and price ranges.
While you're on the GourmetGiftBaskets website you will find more great gift ideas that men especially like. Here are some suggestions to look for: Breakfast, Sweets, Tex-Mex, Seafood, Christmas, Ice Cream and Popcorn.
Another great gift idea that fits right in with all this convenience is the The One-Minute Drink Chiller.
Chill a single canned drink in one minute or a single bottle of wine in less than four minutes. This could come in very handy.
In Closing…
I know you want to get a special Christmas gift for that special man. I hope this article has given you some helpful suggestions. Good luck with your shopping and remember—buying Christmas gifts for men is all about buying for MEN! It's not what you like, but what he likes that counts.
Website Affiliations