Christmas Gifts for Women
When you're shopping for a gift for a woman, your top priority is to make her happy. Sentimental gifts are very special and in most cases something beautiful and personal will melt her heart. Jewelry is a top choice among sentimental gifts. Lovely figurines can also be special, especially if there is a particular message or meaning behind it. Music boxes can be fun, romantic, inspirational or just plain clever. Many men love giving more than one gift. One is not enough. She might enjoy something useful; something she might love to have, but just can't bring herself to buy it. This is where you step in. The idea is to remember her and let her know you care. With any gift, make sure you know her taste; her likes and her dislikes. Knowing her dislikes can sometimes be more important than knowing her likes. Think of something she doesn't already have. It might be something to make her life easier or more enjoyable. Consider something you may already have experience with. If you like it, maybe she will too. I've done a little shopping for you and have personal and sentimental gift ideas in the beginning and some useful or fun gift ideas in the second half. Let's get started. Jewelry sets are a great place to start.
3D Crystal Sculpture - A Totally Unique & Sentimental Gift She'll Always Treasure
A great idea for a sentimental gift is a laser etched 3D Crystal Sculpture made from one of your own photographs. That's right, a 2D photo becomes 3 Dimensional!
The possibilities are virtually endless for something like this. You could select a romantic photo of the two of you, a picture of her with her children, her pets, a favorite vacation photo, a favorite Christmas photo and on and on. And because it's made from crystal it will last forever and it will look good practically anywhere; on her dresser, her night stand, the mantel, her office desk. Plus it's something totally unique and unexpected which will not only thrill her, but the Crystal Sculpture will also become a great conversation piece for guests. Unless she just doesn't like sentimental gifts, you will not go wrong with this gift.
And the process for having your Crystal Sculpture created is very simple. There's just 3 easy steps; 1 - select your crystal, 2 - upload your photo, 3 - place your order. Watch the quick video to see how this amazing gift comes to life. Choose from any of the following options:
Elegant Gifts for Women
Jewelry Gifts for Women
It's very exciting to a woman to be showered with beautiful jewelry.
And some of the most beautiful and uniquely designed jewelry in the world is crafted by The Bradford Exchange.
The video to the right features Bradford Exchange jewelry on a Lifetime TV program called The Balancing Act. Watch it to see what makes this jewelry special and to get a feel for why this jewelry might be right for the woman you're trying to please. All the jewelry I've chosen to list on this page is from The Bradford Exchange.
*JEWELRY SHOPPING TIP: Anytime you have the opportunity to buy matching pieces of a design—do it! You already know how women love to coordinate outfits, well they're the same way with jewelry. She'll think you're a very smart and clever shopper for knowing this. Plus, with every box she opens, she becomes more excited and feels very special and in return, she'll make you feel special, too. That's what it's all about!
Each jewelry piece is purchased separately, unless otherwise stated.
Eternal Love Diamond Jewelry Set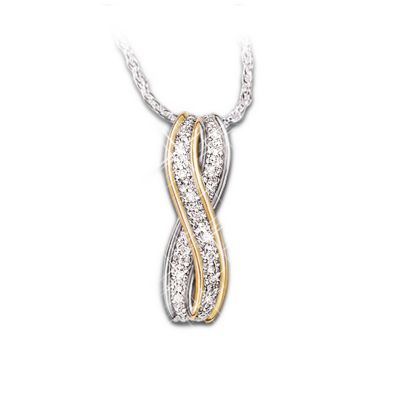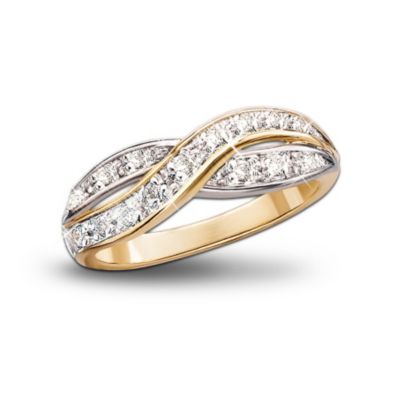 An elegant representation of two hearts entwined in love and devotion through eternity. Necklace designed with 15 brilliant-cut diamonds set in 14K yellow and white gold. Pendant measures 1" H x 5/16" W, chain measures 18" L. Certificate of Authenticity and Valuation. Earrings designed with 7 precious diamonds in each earring set in 14K yellow and white gold. Measure 3/4" H x 1/4" W ; 1.9 cm H x 0.6 cm W. Ring designed in 14K gold with two intertwined bands beautifully hand-set with 15 brilliant-cut genuine diamonds. Each piece of jewelry comes with it's own Certificate of Authenticity and Valuation.
Two Hearts One Love Jewelry Gift Set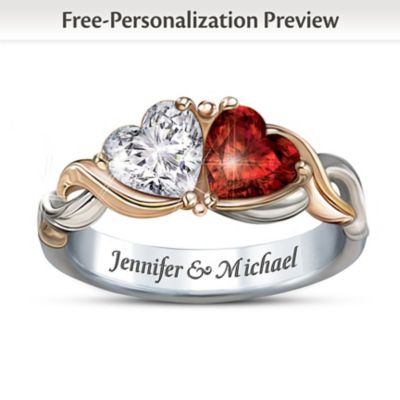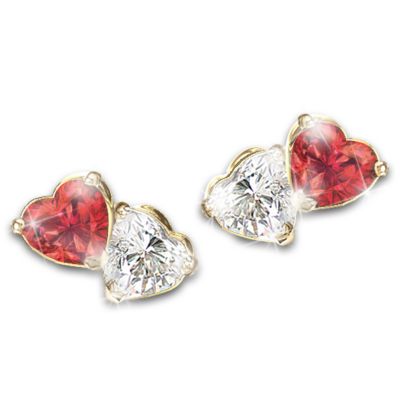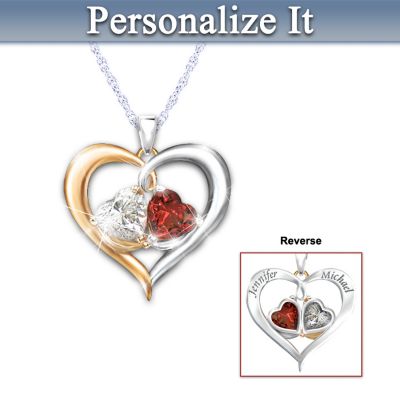 Ring has sparkling white topaz and brilliant red garnet. 24K-gold accents over sterling silver are entwined around the gemstones. His and her names are personalized on the inside of the band. Watch the video when you click on the site. Earrings are designed with glistening white topazes and exciting red garnets. 24K gold accents over solid sterling silver. Each earring measures approximately 3/8" H; 1 cm H. Pendant is in open-heart design with lovely white topaz and red garnet. Solid sterling silver and 24K gold accents. Custom personalization on back. Pendant measures 7/8" H including bail; 2.2 cm H; matching sterling silver chain is 18" L; 45.7 cm L. All three come with a Certificate of Authenticity.
Trinity Sapphire and Diamond Jewelry Set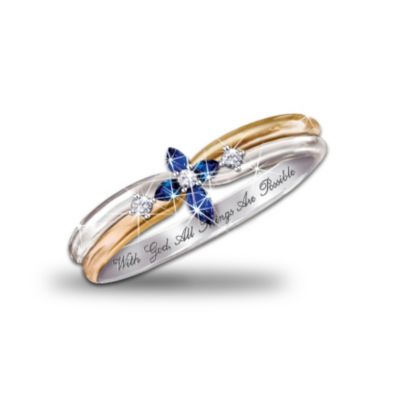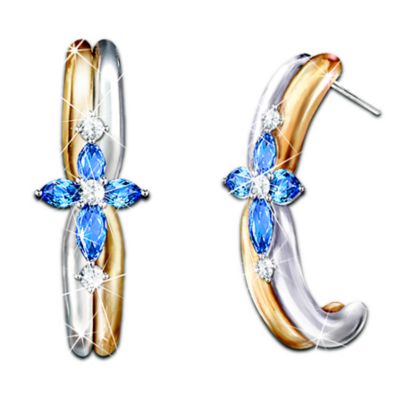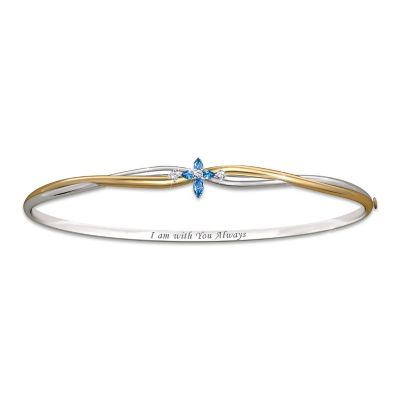 Pendant forms graceful cross in sterling silver and 24K-gold plating. Three diamonds symbolize the Father, Son, and Holy Spirit. Four sapphires in the center form a cross. Ring carries out the same inspirational theme. Engraving inside the ring reads "With God All Things Are Possible." Certificate of Authenticity. Earrings carry out the same theme. Measure 3/4" H x 1" L long; 1.9 cm H x 0.6 cm W. Certificate of Authenticity.
Lover's Knot Diamond Jewelry Set: Romantic Gift For Her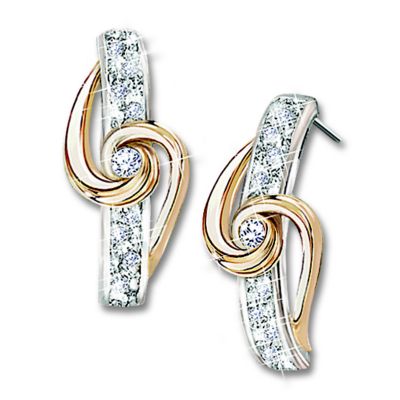 This beautiful and elegant "Lover's Knot" will make it quite clear to everyone, you are "tied together forever." The band of 10K white gold sparkles with tiny pavé diamonds. The 14K gold swirls gracefully around the brilliant-cut solitaire diamond in the center. Certificate of Authenticity and Valuation. The earrings are solid 10K white gold with 10K yellow gold-plated accents. Showcases a total of 18 brilliant-cut diamonds. Measure 3/4" long; 1.9 cm long. Certificate of Authenticity.
Diamond Embrace Jewelry Set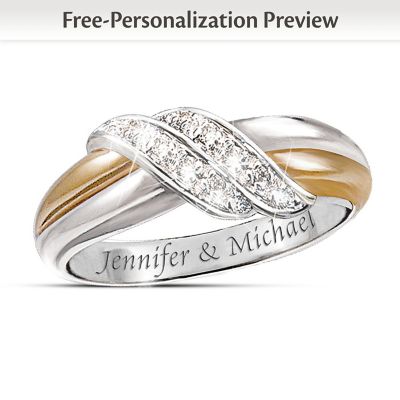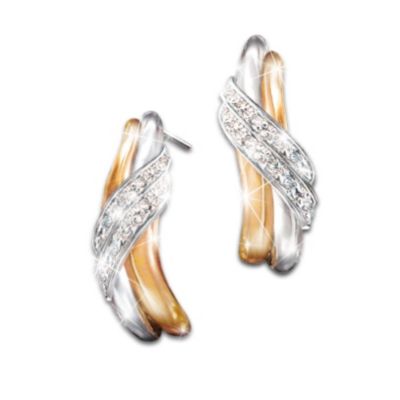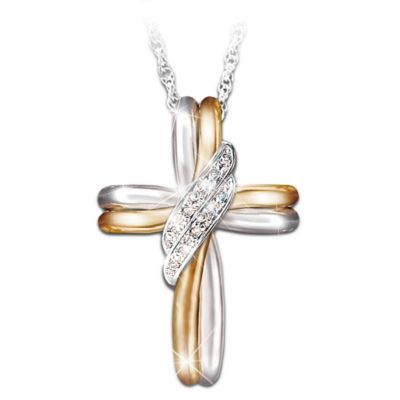 This beautiful, romantic ring features two bands, one of solid sterling silver and the other of 24K gold-plating, embraced by twin ribbons of genuine diamonds. Inside the band is inscribed the names of the romantic couple. Certificate of Authenticity. The earrings continue the theme with solid sterling silver and 24K gold-plating with ribbons of glittering tiny pavé-set genuine diamonds. Measure 3/4" long; 1.9 cm long. Certificate of Authenticity. The beautiful cross pendant features side by side solid sterling silver and 24K gold-plating forming a cross embraced by two ribbons of tiny genuine diamonds. The design symbolizes your Christian walk together through life.
"Today, Tomorrow, Always" Jewelry Set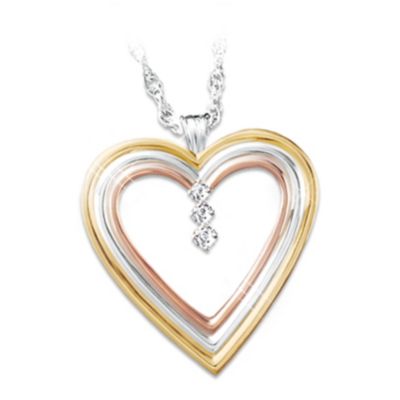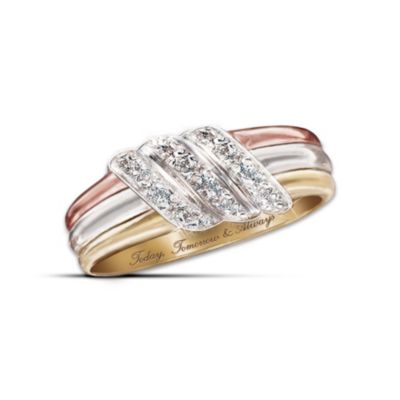 This exquisite heart pendant is crafted of fine sterling silver and plated in tri-color bands of yellow, white and rose 24K gold. Three brilliant-cut diamonds of graduating size dangle from the center of the open heart. The back of the pendant is engraved with the endearing promise, "Today, Tomorrow, Always." Pendant measures 1-1/8" high, chain is 18" in length. Certificate of Authenticity. Ring: This diamond and gold band is crafted of solid 10K gold with tri-color gold-plated bands in rose gold, white gold and yellow gold. Three graceful rows of 13 brilliant-cut diamonds embrace the three bands. Inside the band is engraved with the loving promise "Today, Tomorrow, Always." Certificate of Authenticity.
Footprints In the Sand Jewelry Set: Religious Gift for Her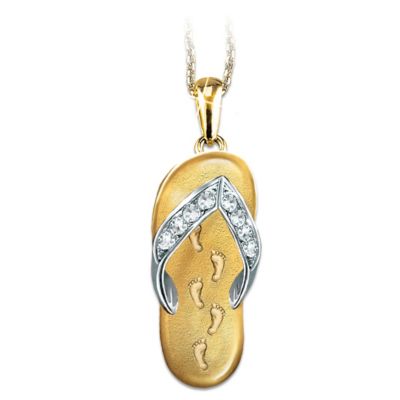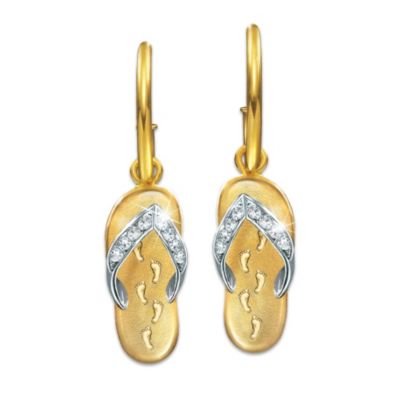 This is one of the most popular and requested of jewelry designs. The pendant is crafted of sterling silver with rich 24K gold with tiny footprints. The strap on the flip-flop design features 8 sparkling Swarovksi® crystals. The back of the pendant is engraved with inspiring words from the cherished poem "Footprints in the Sand." The inspirational poem "Footprints in the Sand" has become a reminder of His strength and love for us as He walks with us through life and to carry us when we need His Strength. Excluding bail, pendant measures 1" H; 2.5 cm H; matching chain measures 18" L; 45.7 cm L. Certificate of Authenticity. The lovely 10K ring is available for men and women. The ring is encircled with tiny silver footprints and is set with a small full cut diamond. Inside the band is inscribed the beloved verse "When you have seen only one set of footprints is when I carried you." Needless to say, the inscription is very small but non-the-less inspiritual. Certificate of Authenticity. The 24K gold-plated earrings match the design in the pendant and set with 8 crystals on each earring and a single set of footprints on the insole. Remove the flip-flop charms and wear the earrings as beautiful loop earrings. It's like getting two for one. The charm bracelet is dazzling. Each charm is 24K gold-plated. A tiny brilliant-cut diamond accents the Jesus charm, while the other five charms are pave-set with Swarovski crystals. Charms include "Jesus within Open Heart," "Sandal," "Heart with 'Footprints in the Sand' Poem," "Cross," "Footprints by the Sea," and "Dove of Peace." This is the perfect addition to the "Footprints" jewelry collection and for any woman of faith. Measures 7-1/2" in length, with toggle clasp. Certificate of Authenticity.
Hidden Message Of Love Jewelry Set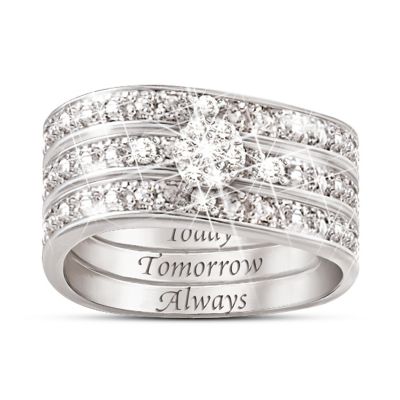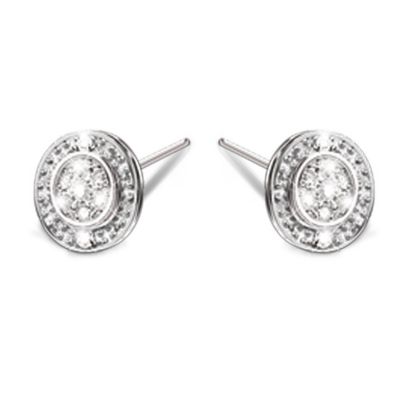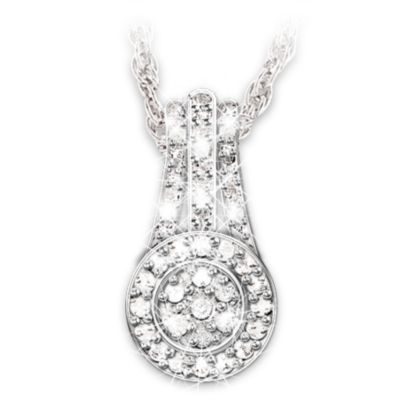 This stunning sterling silver ring is actually three bands of 11 genuine diamonds and a message of love engraved inside each band. The inscription on each band contributes to the message "Today, Tomorrow, Always." Comes with a Certificate of Authenticity. The earrings are equally dazzling with 12 little genuine diamonds in a pavé setting in each earring for a total of 24 sparkling diamonds. Measure approximately 1/4" in diameter; .6 cm in diameter. Certificate of Authenticity. The show-stopping pendant is the final piece in this amazing set. It is crafted of sterling silver with 20 small genuine diamonds in a pave setting. Pendant measures 1/2" H; 1.1 cm H; chain measures 18" L; 45.7 cm L. Certificate of Authenticity. Enclosed in the box is a keepsake card with the sentimental message that reads "I love you, Today, Tomorrow, and Always."
Necklaces and Pendants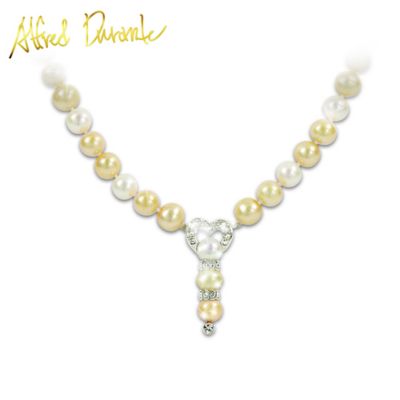 "Today, Tomorrow, Always" Golden Cultured Pearl Necklace – This impressive necklace is designed with 3 colors of cultured freshwater pearls and Swarovski crystals, and comes with a loving poem and gift box. This meaningful gift expresses your never ending love—"Today," "Tomorrow," and "Always." Measures 18" L; 45.7 cm L. Certificate of Authenticity.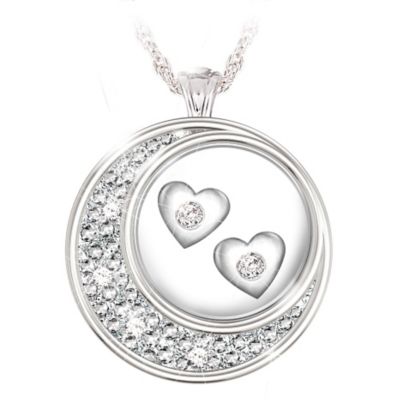 "Floating" Diamond Hearts Sterling Silver Pendant – This precious pendant cleverly states, "I love you to the moon and back." It's created of sterling silver and lavished with 6 genuine diamonds. Pendant measures approximately 1" in diameter; 2.5 cm in diameter; sterling silver chain measures 18" L; 45.7 cm L. Certificate of Authenticity.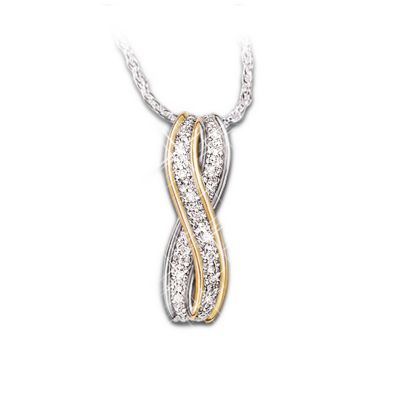 "Eternal Love" Diamond Pendant Necklace – The entwined bands of 14K yellow and white gold represent two souls joined together. It sparkles with 15 brilliant-cut diamonds. Pendant measures 1" H x 5/16" W, chain measures 18" L. Certificate of Authenticity and Valuation.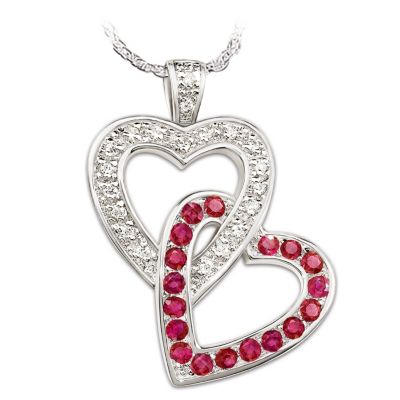 "Always In My Heart" Diamond And Ruby Pendant – This captivating sterling silver necklace comes with the message "Always In My Heart." It sparkles with 20 diamonds and 18 rubies in the shape of two hearts joined together. It's a dazzling, romantic gift. From bail to bottom heart Pendant measures 1-1/2" L; 3.8 cm L; matching chain is 18" L; 45.7 cm L. Certificate of Authenticity.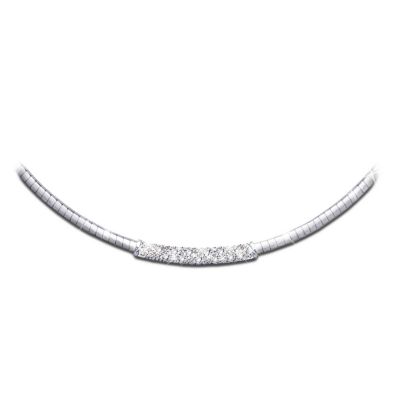 "Destiny" 19-Diamond Omega Chain Necklace – This impressive necklace is hand-crafted in dazzling sterling silver with tiny sparkling brilliant cut genuine diamonds in a pave setting and Omega chain. The romantic engraving on the reverse side reads, "To the world you are one person, but to one person you are the world." Very special. Very touching. Measures 18" L; 45.7 cm L. Certificate of Authenticity and Valuation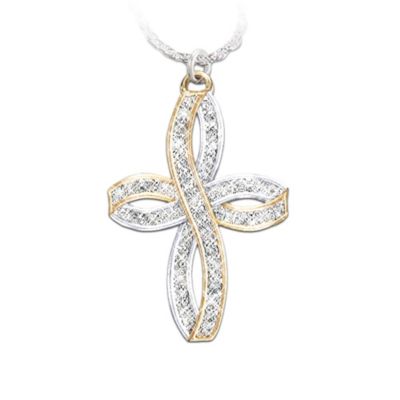 "Eternal Devotion" Diamond Cross Pendant Necklace – This beautiful cross is definitely one of my favorites. It is designed in 14K yellow and white solid gold with 15 pavé-set sparkling diamonds. The title of the pendant says it all, "Eternal Devotion." Pendant measures 7/8" H; 2.2 cm H; chain measures 18" L; 45.7 cm L. Certificate of Authenticity.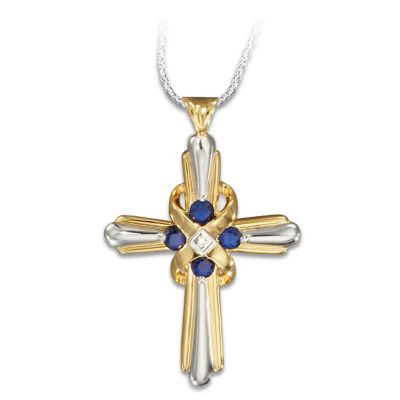 Sapphire And Diamond Cross Religious Pendant Necklace – Give her an inspirational cross pendant as an expression of her faith. This exquisite cross is designed in sterling silver and 24K gold plating with a brilliant bezel-set diamond and 4 sparkling sapphires. The reverse side of this religious jewelry is engraved with the words "With God all things are possible." Pendant measures approximately 1-1/2" L; chain is 18" L. Certificate of Authenticity.
Earrings
Most styles available for pierced and non pierced ears.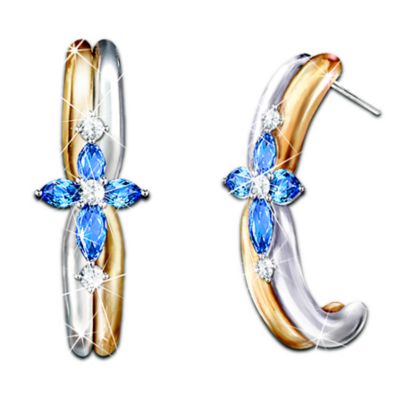 The Holy Trinity Sapphire And Diamond Earrings – Beautiful solid sterling silver and 24K-gold plating. Each earring has 4 genuine sapphires, 3 diamonds on each earring to form a cross. Measure 3/4" H x 1" L long; 1.9 cm H x 0.6 cm W. Certificate of Authenticity.
Thomas Kinkade "Believe" Diamond Earrings – Crafted of 24K gold-plated solid sterling silver. Raised cross features brilliant cut diamond. Tiny inscription inside each cuff earring reads "Believe All Things Are Possible With God." Measure approximately 1-1/2" H; 3.8 cm H. Certificate of Authenticity.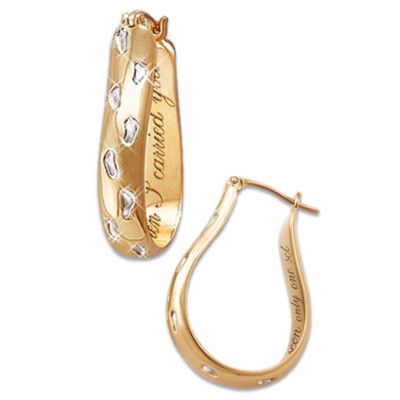 Engraved "Footprints In The Sand" Earrings – Hand crafted 24K gold-plated over sterling silver; engraved on one side with shimmering silver footprints representing Jesus' walk with you through life. Inspired from poem "Footprints in the Sand." Inside of each earring is delicately engraved with verse from beloved Footprints poem, "When you have seen only one set of footprints is when I carried you." Each earring measures 1-1/2" H x 1/4" W; 3.8 cm H x 0.6 cm W. Certificate of Authenticity.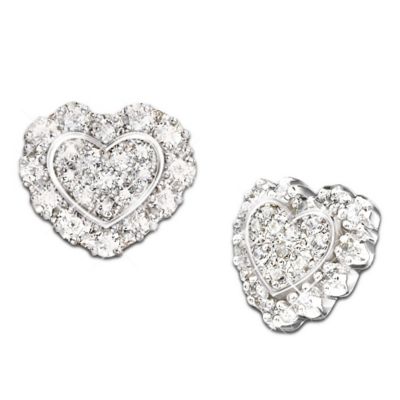 "Hearts Of Love" 24-Diamond Earrings – Dazzling romantic heart-within-a-heart design earrings with a total of 24 brilliant-cut diamonds. Each earring measures approximately 2/5" H; 1.1 cm H. Certificate of Authenticity . Arrives in an attractive custom-designed keepsake case that includes a heartfelt sentiment on the inside: "For the memories of yesterday, For the happiness of today, For the promise of tomorrow, I love you."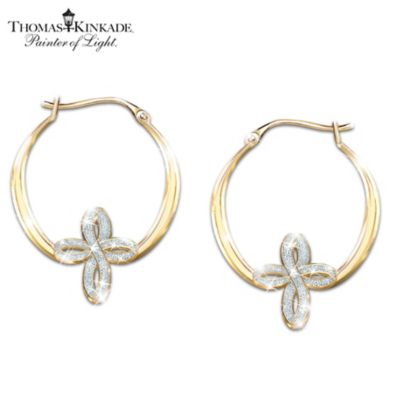 Infinity Crystal Cross Earrings With 24K Gold Plating – Inspirational Thomas Kinkade " Always and Forever in Christ" is engraved on the back of each earring. It is hand-crafted of solid silver with 24K gold-plating. Elegant cross is adorned with more than 36 genuine sparkling Swarovski® crystals.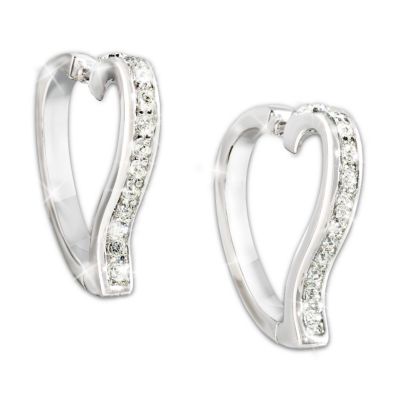 "Love In My Heart" Diamond Earrings - Sterling silver pierced style with 12 genuine diamonds. Measure 3/4" H; 2 cm H. Certificate of Authenticity.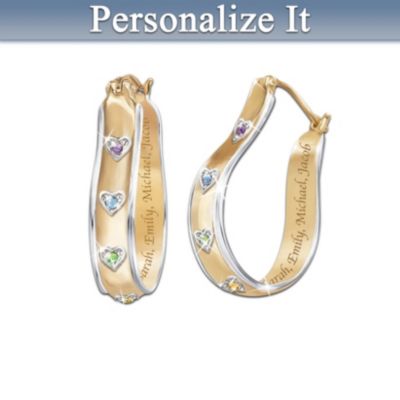 "A Mother's Joy" Personalized Birthstone Earrings – This is a set any mother would love. It's sterling silver in 24K gold. Personalize it with a birthstone enclosed in a silver heart for each child with each child's name elegantly inscribed inside each earring. Choose up to 6 birthstones and 6 names. Measures approximately 1-1/2" L; 3.8 cm L. Certificate of Authenticity.
Rings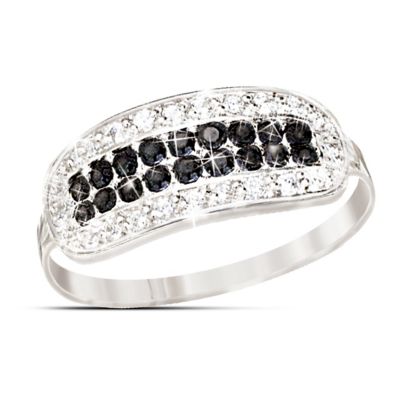 The Rare Black Diamond And White Diamond Ring – The 5th Avenue Black Diamond Ring is a high fashion statement in elegance. It is fashioned in 18 rare and elegant black diamonds and 22 brilliant-cut white diamonds. It is set in solid 10K gold. This uncommonly beautiful gift is unlike any other. Certificate of Authenticity and Valuation.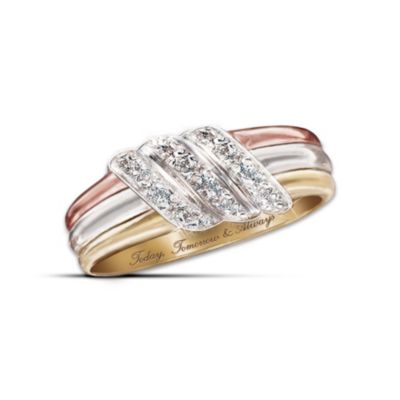 "Today, Tomorrow, Always" 10K Gold Diamond Ring - How long will you love her? This ring says it all. It is crafted in 10K solid gold in impressive tri-color bands with 13 brilliant-cut diamonds. Inside the band is engraved the loving promise "Today, Tomorrow, Always." Certificate of Authenticity.
"Lover's Knot" Personalized Diamond Ring – The elegant Lover's Knot symbolizes you'll be tied together forever. This show-stopping and sentimental ring is fashioned of 10K white gold with accents of 14K yellow gold and a pave of tiny sparkling diamonds. The gold swirls around a brilliant-cut diamond forming a lovers knot. Personalize the inside of the ring with the name of the two lovers. Certificate of Authenticity and Valuation.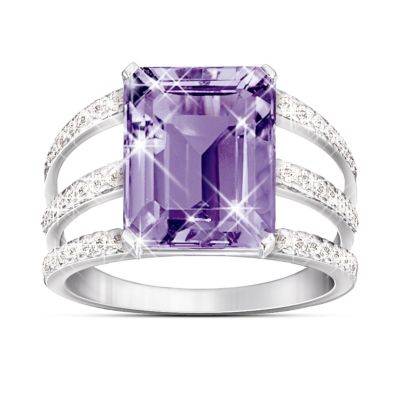 Triple Band Purple Amethyst And Diamond Ring – The Amethyst is called "The gemstone of the gods." This exquisite 3-band design is fashioned with a 5½ carat solitaire purple amethyst and the 3 solid sterling silver bands are embellished with 24 brilliant-cut diamonds in a pave setting. Outstanding, impressive! Certificate of Authenticity and Valuation.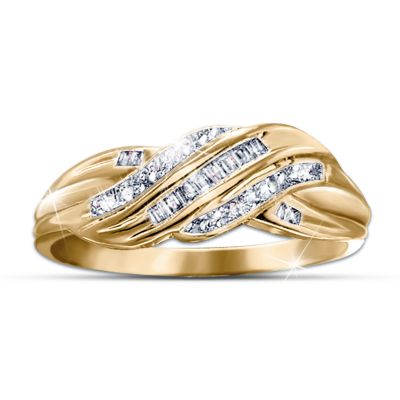 "Diamond Embrace" 21-Diamond And Yellow Gold Ring – This amazing eternity ring is fashioned in 10K gold with 21 genuine diamonds. This exquisite ring features 4 different diamond cuts making it totally unique from other eternity rings. It has 10 round diamonds, 7 baguettes, and 4 tapered baguettes. It's a breathtaking ring. Certificate of Authenticity.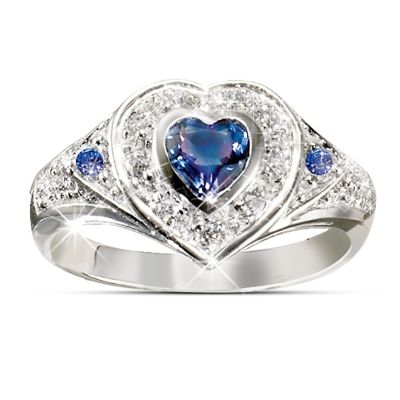 Tanzanite And Diamond 10K White Gold Heart Ring – The True Heart Ring is designed with the treasured Tanzanite from the deepest mines of Mt. Kilimanjaro. Its heart-shaped design is set in 10K gold and surrounded by 15 pave-set diamonds and two round Tanzanite gems. Certificate of Authenticity.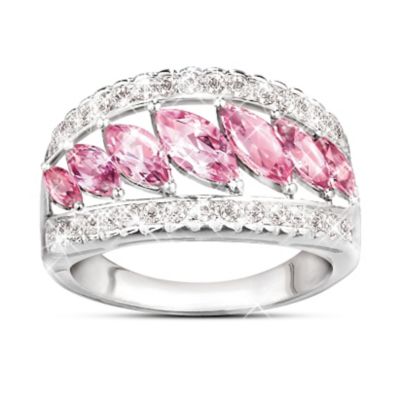 "Starlight Elegance" Pink Topaz And 20 Diamond Ring – For the woman who loves pink, this is a no-brainer. This gorgeous ring is handcrafted in 10K white gold and showcases 7 marquise-cut genuine pink Topaz, surrounded by 20 brilliant-cut genuine diamonds. Incredibly beautiful and feminine. Certificate of Authenticity and Valuation.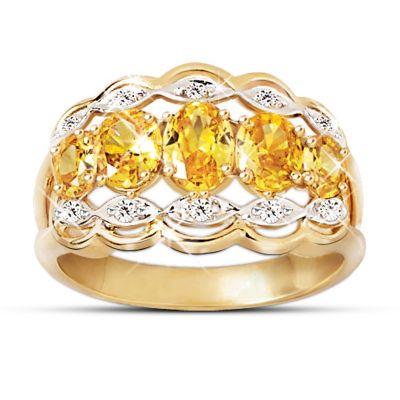 "Dazzling Fire" Sapphire And Diamond Ring – Give her the experience of the fiery yellow Sapphire, the symbol of good fortune. This beauty is handcrafted in solid 10K gold with 5 hand-set richly faceted oval yellow sapphires embraced by 10 sparkling genuine diamonds in graceful, marquise-shaped settings. She won't be able to take her eyes off of it and neither will anyone else. Certificate of Authenticity.
Opal Indulgence Diamond Ring - A lovely combination of opals and diamonds for any woman, especially if her birthday is in October. It's crafted of solid sterling silver with 24K gold-plating. The flowing branch design consists of 16 genuine opals and 6 genuine full-cut diamonds. Certificate of Authenticity.
Music Box Gifts She Will Adore
Music boxes seldom come to mind when shopping for a special gift for a woman. They're really quite wonderful. Visually, they're a thing of beauty she can admire. When she looks at it, she thinks of the giver and is flooded with memories. When she plays the music it pulls at the strings of her heart. Music boxes that are fun can cheer her up; bring a smile to her face, or spark a conversation. They're very special, but not everyone knows.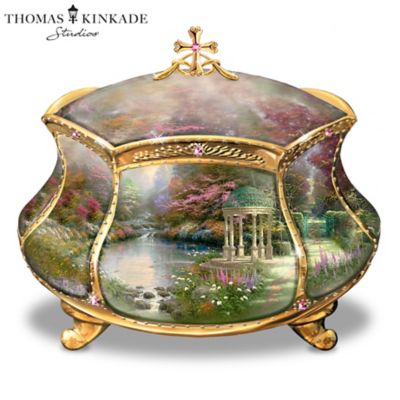 Thomas Kinkade "Garden Of Prayer" Musical Prayer Box – This beautiful porcelain music box displays Thomas Kinkade's "Garden of Prayer" artwork and is accented with 22K gold. A private compartment inside the box holds your heartfelt prayers, and a quotation from the Bible appears beneath the lid in gleaming golden script. It plays the melody "You'll Never Walk Alone."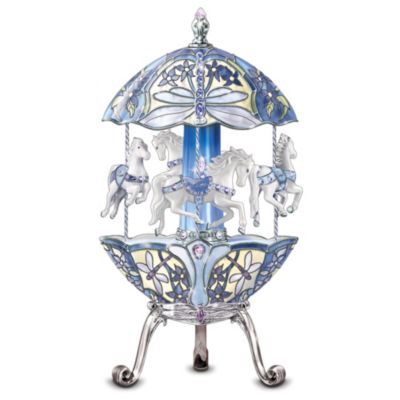 Victorian Musical Revolving Carousel Egg – This lovely porcelain carousel is inspired by the artwork of Louis Comfort Tiffany. It is accented in elegant platinum and plays the melody "The Carousel Waltz."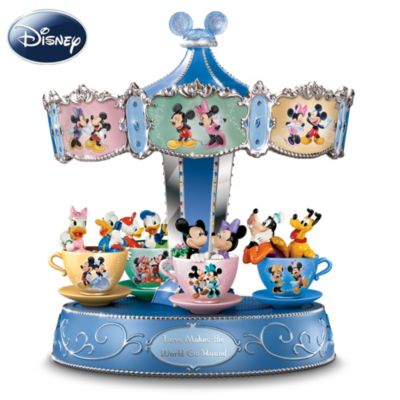 Mickey Mouse & Friends Carousel Music Box – I included this Mickey Mouse Carousel music box just for the fun of it. It's an adorable music box that brings back childhood memories and makes you smile. It plays "Love Makes the World Go Round." The carousel is intricately painted with favorite Disney characters. It lights up and the teacups twirl taking Mickey and his friends on a merry ride. It measures 9 1/2" high.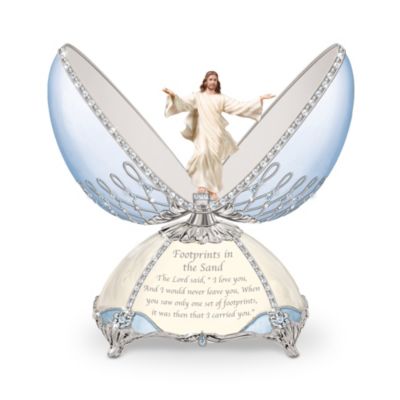 "Footprints Of The Savior" Crystal Porcelain Music Box – This beautiful porcelain music box in the style of Peter Carl Faberge is elegant and decorative with its platinum accents, raised-relief scrollwork, sparkling Swarovski crystals and simulated jewels. But the true beauty comes from the meaning and inspiration this thoughtful and loving music box provides. A figure of Jesus with open arms stands in the center. The inscription on the front is a loving and comforting verse from "Footprints in the Sand." The music it plays is "Amazing Grace." This is truly a gift to be cherished.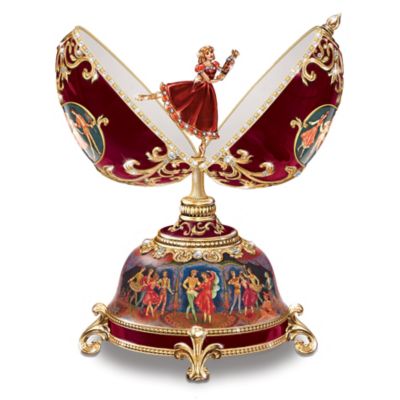 "Clara And The Nutcracker" Musical Egg – This beautiful, bright music box is a beautiful reminder of the holiday classic "The Nutcracker Ballet." The egg, base, and Clara figurine are adorned with 22K gold accents, scrollwork, and over 100 sparkling hand-set simulated gems! This is a limited edition; it is hand-numbered with matching Certificate of Authenticity.
The Holy Family Crystal Musical Egg - This crystal Faberge-style egg is handcrafted of genuine crystal with dozens of radiant facets in elegant patterns. A hand-painted sculptural portrait of Joseph, Mary and Baby Jesus is the focal point of this collectible Nativity musical box. It plays the beloved "Silent Night." Edition is strictly limited to 95 crafting days. It is hand-numbered with matching Certificate of Authenticity. Measures 7-1/2" H; 19.1 cm H.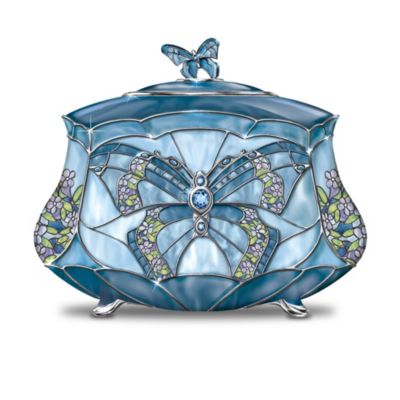 Butterfly Stained-Glass-Look Porcelain Music Box - This "Stained glass" design inspired by the era of Louis Comfort Tiffany in Heirloom Porcelain. Sparkling crystalline gems accent the butterfly design and catch the light with a prism-like effect. It is accented with gleaming platinum to recreate the look of glaziers' lead. It plays the beloved melody of "Wind Beneath My Wings."
Electronics Gift Ideas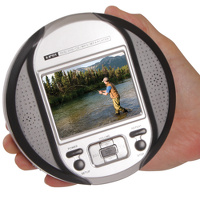 One of the best gift ideas is The Palm Sized DVD Player
. It measures only 6" across and is totally portable. It can be carried in a purse or briefcase. It comes with its own ear buds for discreet listening. You can watch it for 2 hours on a 3 hour charge. One thing she will especially like is the ability to view pictures or video from a PC or digital camera. It has anti-skip technology for uninterrupted viewing during bumpy flights or rides. It also includes a remote control and AV cable for connecting to a television.
Usually, the first thing to greet us in the morning is an alarm clock — not always a pleasant experience. But there is an alarm clock that makes waking up a pleasant experience. The Peaceful Progression Aromatherapy and Nature Sounds Wake-Up Alarm Clock is my kind of alarm clock. Thirty minutes before time to get up the process begins: a soft light glows, a faint aroma is released. Fifteen minutes later, nature sounds begin playing; there are 6 to choose from. Thirty minutes later a beeper sounds to assure you are awake. It can also be set for sound or beeper only. Now that's a great way to start the day.
Another idea that's great for women and anyone else who uses a cell phone is The Steering Wheel Bluetooth Speakerphone. It attaches to your steering wheel so your microphone and speakers are right in front of you for easy conversations. There is a display for inbound calls, volume, mute, and phonebook buttons. It can be used with up to eight different cell phones and holds up to 600 phone numbers.
If the noise and hustle bustle are a little much and closing it out by shutting a door isn't possible, she might enjoy The Authentic Sound Oasis Machine. This isn't computer generated sound; it is sound generated at the source. Six included sounds are white noise, rain, wind, surf, summer night and stream. If these relaxing sounds aren't enough, additional sound cards are available. Also included are a timer, digital alarm, and headphone jack. It runs on an AC adapter or 4 AA batteries. This sounds like something we all could use from time to time.
Women and in fact, everyone who listens to music with headphones will especially like The Bose In-Ear Adjustable Earbud Headphones. I speak from first-hand experience. The music sounds great — fuller, more natural and clear. The earbuds come with three removeable silicone tips in different sizes so she can choose the size that fits best.
The Portable Pocket Television is another fun idea. It can be used while waiting for an appointment, while relaxing on the beach or by the pool, or even taking a lunch break while her favorite show is on; or she may want to catch up on the news. It has a headphone jack for private listening, but it also has a generous 60° viewing angle allowing others to watch as well. It has a built-in antenna that collapses back into the case, as well as an optional external antenna for optimum reception.
Another electronic device for viewing pleasure is The Portable DVD Player. It's only 8" in diameter and perfect for tucking it into a purse or carry-on. It's great for watching movies, and can also be used with The Only 55 Inch Widescreen Personal Movie Theater, a device that allows a private viewing experience equivalent to watching a 55" widescreen TV from 10' away. It connects to a personal video game system, a video iPod, or a DVD player such as the one just mentioned. This Personal Movie Theater allows an individual to focus from +2 to -5 diopters and tilt up to 15° for a custom fit. It comes with a removeable headphone and an optional head strap.
Cameras for the Woman Who Likes to Make and Keep Memories
I never saw a woman who didn't like to save memories. That is easy with The Simple Digital Camera. The 3/8″-high buttons and simplified menus make for easy straightforward operation. The camera has an 8X digital zoom, and anti-shake function that enable effortless composing of shots. The images can be uploaded to a computer via USB. For Windows 7, Vista, XP, and Mac. Problem solved—simple operation and memories saved.
If she can't wait to see those images, she won't have to. She just needs The Digital Polaroid Camera. It instantly prints the images you capture. The camera's integrated printer produces 2″ x 3″ borderless color photographs without the hassle of ink cartridges. The 5.0 megapixel camera has a 3″ color LCD, and you can crop and resize images and add the date, file name, and borders to photographs at the touch of a button. Pictures are saved on an SD memory card (not included) and transferred to a PC or Mac via the included USB cable. Prints 20 photographs after a full charge. Now that's what I call instant gratification. What more could she want?
If she's looking for something small The Touchscreen Shirtpocket Camera. might be her style. It operates via a convenient touchscreen and tucks into a shirt pocket or purse. She'll never have to miss a precious moment again. Its button-free design makes it easy to use. It has many great features she is sure to love.
A nice little gadget that can print pictures without a computer is The Portable Digital Photograph Printer. It can produce a photo within one minute without the need for a computer. It uses a special composite paper embedded with color dyes. It comes with 5 sheets of paper for immediate use, but don't forget to stock up on paper. She'll need it!
Gifts for Taking Care of the Home
When considering useful and efficient gift ideas for helping her take care of the home, many worthy products come to mind: The Best Carpet And Upholstery Steam Cleaner, The Pet Owners Robotic Vacuum, The Mold and Germ Destroying Air Purifier. But I wanted to suggest something you might not have thought of. Something I have personal experience with and appreciate.
With the busy and often hectic schedules that women maintain, I'm always on the lookout for products to make life a little easier. I like the looks of The Professional Roomba. It's made by the developers of tactical reconnaissance robots for the U.S. military. It cleans large areas, determines the best possible cleaning path and navigates around furniture. Watch it in action: Play Video. Other robotic vacuums are The Seven Day Scheduling Robotic Vacuum and The Pet Owners Robotic Vacuum. These vacuums are a little more expensive than some vacuums you push yourself, but they can be real "lifesavers" for the busy, overworked woman or anyone who might be incapacitated.
A nice safety feature she might appreciate is The Electronic Guard Dog. The unit's radar can detect movement up to 30' away even through walls and doors. When it detects movement the "dog" starts barking. As the subject gets closer, the frequency of barking increases. When the subject is outside the door, it emits the sound of an agitated dog barking. It can also be set to bark and then sound a siren. It also has volume and sensitivity controls. It's only 7 ½" high. The small size is a real plus, because it won't intrude on her décor.
Another home protection device which may help to give her peace of mind is The Cordless Motion Activated Light. It's weatherproof, uses reliable LED's, mounts easily with the included plates and screws and requires no wiring. The motion detector will turn the light on when it senses movement and shuts the light off when no motion is detected for 30 seconds. It uses 4 C batteries for up to 150 hours of operation.
A real plus for taking care of the home when away is The Motion Tracking Web Camera. It automatically tracts motion and can be controlled from a remote location. You can observe the home in real-time from anyplace in the world. It can also send notification to your personal e-mail when it detects motion. With the included software you can view real-time video and control the camera manually. It's a great way to monitor the home when at work or on vacation.
Personal Care
Women, especially moms, are always looking for nice things for the family or friends and find it easy to push themselves aside; sometimes without realizing it. I have selected a few gift ideas that she might not buy for herself, but she will surely enjoy.
Not every woman can afford to go the Dermatologist to get a revitalizing skin treatment. She won't have to with The Dermatologist's Ultrasonic Facial. This system uses ultrasonic vibrations to diminish fine lines and wrinkles and they claim, even blemishes. The gently vibrating brush removes dry, flaking skin and leaves it soft and more youthful and improves skin tone. It comes with four different sized attachments to treat different areas of the face more efficiently. It can even be used in the shower.
The Diamond Tipped Microdermabrasion System is a little more expensive and takes another step toward youthful, healthy-looking skin. It gently abrades and exfoliates the skin to minimize the appearance of age spots and enlarged pores. "A study performed by The Mount Sinai Medical Center proved that the diamond tipped microdermabrasion system diminished fine lines, wrinkles, and blemishes in nearly all patients who used the device twice a week." It has a comfort control knob and comes with four diamond tips: two for normal skin and two for sensitive skin. Personally, I think I would start out with the diamond tip for sensitive skin. That's a good place to start.
I would be remiss if I did not mention a product for helping to reduce skin blemishes without prescriptions. It's called The Dermatologist's Phototherapy System. Leaving our teenage years behind does not mean we automatically leave blemishes behind. This is a problem that can occur with any adult at any time. "A study in the British Journal of Dermatology showed blue and red phototherapy eliminates p-acne bacteria (the most common cause of acne) and reduces skin blemishes by 76%." It's easy to use. Just hold the device next to the skin and it automatically delivers the phototherapy for three minutes. Everything needed is included in the kit. No one wants blemishes and this system was proven nearly twice as effective as benzoyl peroxide, the main ingredient in blemish creams.
In fine hotels everywhere, one of the amenities they provide their guests is the luxury of using The Genuine Turkish Bathrobe. You can do the same for your special lady. She'll feel like she's living in the lap of luxury at a 5 star hotel. The more it's washed, the softer it gets. Another choice is The Turkish Shower Wrap. It's also a lovely gift idea, made of the same high quality as the Turkish robes. It doesn't come loose and fall off easily as many bath wraps do. It fastens in place and even has two pouch pockets.
Women like for their nails to look good, but not everyone can afford the luxury of a professional manicure or pedicure. With The Precision Pedicure System she will look great and not agonize over spending money at the nail salon or not being able to take care of her nails; and she can still feel pampered because the German-engineered tools make manicuring easy.
Something that I consider indispensible when applying makeup is The Foldaway Lighted Vanity Mirror. The mirror 13 ½" high and 6 ½" in diameter is encircled by eight LED lights and it folds to about the size of a CD player. It's perfect for tucking away in a drawer when not in use or tucking into a suitcase when traveling.
I have mentioned a few personal gift ideas for women, but there are many more. Here are a few more suggestions:
The Best Ultrasonic Jewelry Cleaner
The Cordless Electrolysis Pen
The Best Hair Rollers
The Phototherapy Hairbrush
The Volume Enhancing Hair Straightener
The Best Women's Shaver
Travel
I just mentioned The Foldaway Lighted Vanity Mirror section. It's so helpful in applying makeup that I thought it was worth mentioning again, since it's perfect for traveling.
When traveling and sight-seeing, protection from the sun is important, but easily over-looked. The Best UV Protecting Sun Shirt comes to the rescue. It's really cute and blocks 98% of harmful UVA and UVB rays in lab tests commissioned by the Hammacher Schlemmer Institute. It comes in white, has two front pockets, and can be worn over a swim suit. When out and about, she can jazz things up with a little jewelry and feel stylish and sun-protected at the same time.
Another item she'll want to pack in her bag is The Million Germ Eliminating Travel Toothbrush Sanitizer. It uses the same UV technology used to sanitize hospital instruments. Millions of germs can accumulate on the toothbrush, including streptococcus. This little device can sanitize a toothbrush in less than 7 minutes.
Hotels always furnish alarm clocks, but The Voice Interactive Travel Alarm Clock makes it so easy to set up a wake-up call, set the time, and many other commands for a total of 10 voice commands. You can choose to wake with a chime, buzzer, or bell by using a verbal command. It's as small as a deck of cards and the display can be seen night or day. It also has a snooze option. It's easy to use and puts you in control. It would also make a great little clock in the guest room for house guests who want a wake-up call.
Exercise Equipment
(Warning! If she's not into exercising, don't get her any of these gifts or she might think you think she's fat.)
The Foldaway Recumbent Exercise Bike is great for indoor exercising. The rider sits up straight and can hold onto bars at seat level. I own this one myself and can attest to its comfort and user-friendly adjustments.
The Foldaway 39 Exercise Gym is another home exercise device that folds down to fit under a bed or in a closet. It uses 3 color coded elastic bands instead of weights. The resistance levels are the equivalent to 5, 12, 17, 20, 25, 32, and 37 lbs. Instructions are included for performing 39 exercises and 10 targeted workouts.
One more device that I have heard a lot about, but have no personal experience with is The Gentle Return Inversion Machine. What I know about this machine is that it helps to relieve strain on the spine and vertebrae. It gently stretches the back in less than two minutes. They claim that with daily use it relieves disk and nerve root pressure, decreases spinal compression, and eases cervical tension that can lead to pinched nerves and headaches. I know one more thing—if we had space for it, my husband would have already bought one.
There are many more exercise devices available at Hammacher Schlemmer that could make great gifts. Here is a list of a few of them.
The Hideaway Elliptical Trainer
The Foldaway Lateral Stepper
The Easy Access Recumbent Exercise Bicycle
The Safer Exercise Trampoline
The Three Wheel Recumbent Cruiser
Kitchen Helpers
One of the best kitchen helpers for any woman is The Under Cabinet TV With DVD Player. No, it doesn't make her a better cook, but it certainly helps her while she's cooking. She doesn't have to miss her favorite program; she can watch DVD movies, play music CDs and listen to AM/FM radio. This little kitchen helper can make the time she spends cooking, a lot more pleasant.
If there's one thing every cook needs, it's a sharp knife. No matter how sharp it starts out, it will eventually get dull with repeated use. The Best Electric Knife Sharpener earned the best rating from the Hammacher Schlemmer Institute for its superior sharpening ability and it was the only sharpener that could also sharpen scissors. I won't go into the particulars of what makes this sharpener so great, but I have already decided that this one is going on my Christmas list.
More gift ideas that could prove to be helpful to her is The One Minute Drink Chiller. That could come in very handy when friends drop in. It will also cool 12 ounce canned drinks, one at a time. Another handy helper in The Touchless Paper Towel Dispenser. It dispenses a sheet with the wave of the hand. While Mom packs the lunches, The Breakfast Sandwich Maker prepares breakfast.
These are only a few gift ideas that are useful and practical. There are many more nice gifts on the Hammacher Schlemmer website if you didn't see anything that would work for her.
Website Affiliations