Personalized Christmas Gifts for Men
I did a little on-line shopping for those crazy loveable guys out there. These examples of personalized gifts I have suggested here are only a few of many wonderful gift ideas available. All can be personalized and all are useful; several are useful for travel. You will also find items that can be used every day and are also practical. You will also find keepsake items. Sometimes men put off buying things for themselves that they need or that might make life a little more enjoyable. And personalizing is not a priority. They'll grab anything that will work and be on their way. Gift giving is very special and personalizing makes it obvious. You can give him a Christmas gift that's worthwhile, personalized and something you know he will use.
Deluxe Weekender Monogram Duffel Bag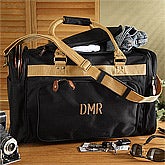 This good looking weekender bag is great for quick trips and is a perfect carry-on for the plane. It measures 22"W x 13"H x 11D". It has leather zipper closures and a removable shoulder strap. And of course, it can be monogrammed. I really like this one. And it's not that expensive. Click on the picture and check it out.
Click here to buy the Deluxe Weekender© Monogram Duffel Bag
You Are My World© Coffee Mug & Key Ring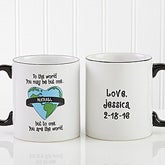 I really liked this mug; not so much for the looks, but for what it said. "To the world you may be one…but to one, you are the world." This says it all. It's a beautiful, precious sentiment for someone you love. This is a great personalized Christmas gift idea, but it's also a great idea for Valentine's Day, an anniversary, or what I call a "just because" gift. The keychain you can purchase separately.
Click here to buy the Personalized Coffee Mug and Key Ring - You Are My World
First Class© Monogram Leather Ticket Case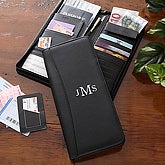 This ticket case is beautiful and absolutely first class: black leather, zipper closure, additional snap closure inside and pockets for all essentials. A silver and gold pen is included in holder and it has an outside pocket for easy access to tickets. The monogram is stamped in elegant silver foil. This is a great idea for a frequent traveler (or even not so frequent); I know there are lots of travelers out there. This is something he may not buy for himself, but it certainly would make a wonderful personalized Christmas gift.
Click here to buy the First Class© Leather Ticket Case
Suede And Leather Monogram Valet Tray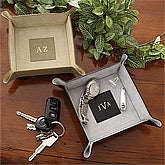 This valet tray is a very attractive way to keep those little essentials, like car keys, watch, coins, jewelry, etc. from being scattered who knows where. All you have to do is train him that "there is a place for everything, and everything in its place." This is a good looking tray; it's made of top quality genuine black or brown leather with a soft suede interior. You can have it monogrammed in gold or silver foil for a beautiful finishing touch. The sides can be unsnapped, so it makes a great traveler. I like this one. It's handsome and masculine and not fussy. It's just right for the right Christmas gift.
Click here to buy the Personalized Suede and Leather Valet Tray
Why I Need Dad© Genuine Marble Keepsake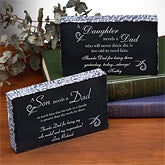 This genuine marble "Why I need Dad" tabletop keepsake is a beautiful reminder for Dad. He knows his kids love him, but seeing it written in stone is a daily reminder of how important he is to the family. You have the choice of 15 different sentiments or write your own. Close it with your own personal sentiment. It's laser engraved on real marble and measures 5"H x 3" W x 3/4″. It's a precious Christmas gift that will become a precious keepsake.
Click here to buy the Why I Need Dad© Genuine Marble Keepsake
First Hero/First Love©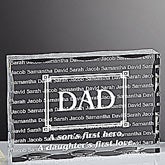 This elegant tabletop keepsake is made of Lucite, has scalloped edges and has reverse engraving on the back so you can see the children's names showing through the clear block. You may choose the sentiment on the block or you may choose your own. You choose the title on the front. That means you can give it to Dad or Granddad or another special man in your life. Once again, this would make a lovely Father's Day gift or birthday gift, and of course, a great Christmas gift.
Click here to buy the First Hero/First Love© Engraved Keepsake
The items I have mentioned on this page are selections I thought would make very nice Christmas gifts from PersonalizationMall.com.
If you didn't see anything you liked, go to their sight and browse. They have something for everyone.
Website Affiliations