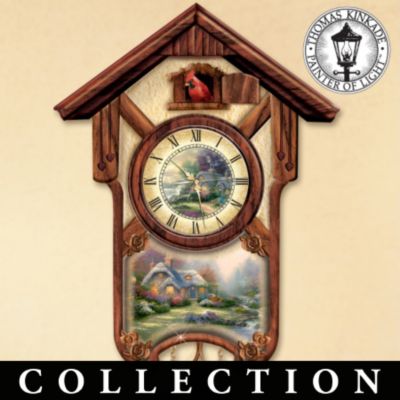 One of my favorite Christmas trees that I have ever done is the Irish themed Christmas tree.
I adorned it with a number of beautiful green and gold decorations, but the most outstanding ornaments by far were the Thomas Kinkade Irish Blessings Snowman Christmas Tree Ornaments
. Each snowman ornament is absolutely lavished with Irish charm and nostalgia. These darling, little Irish snowmen are among my favorite ornaments I've ever had and I never get tired of looking at them.
Here's what makes these Irish snowmen so unique:
Click images to enlarge.

The Warm Glow – If you're familiar with Thomas Kinkade's artwork then you know about how his paintings seem to glow when you dim the lights. These snowmen have a similar effect except it's no illusion. They really do glow. Each ornament has a small hole in the back where you can insert a Christmas light. When all the lights in the room are on, the glowing effect is subtle and they look like normal white snowmen. But when you dim or turn off your overhead lights, the Christmas tree lights illuminate the snowmen with a soft, warm glow. It is a truly captivating effect.

Thomas Kinkade Artwork – Somewhere on every snowman you'll find a tiny image inspired by an actual Thomas Kinkade painting. Attached to the string hanger is a gold foil tag with the name of the Kinkade painting represented on the ornament. It's fun to look up each of the images on Kinkade's website and compare them to the ornaments. The image to the left was inspired by the Kinkade painting titled "Heather's Hutch." When you compare the two you can see how the cottages are styled the same with the location of the windows, the brickwork, the lightpost, the trees & flowers, the early morning sky, and of course the smoke coming from the chimney - it's all there.

Irish Blessings – One snowman in each set has a traditional Irish blessing inscribed in a Celtic style font on the objects they're holding or interacting with. BTW - "sets" are explained futher down the page.

Irish Symbols – Each snowman is adorned with numerous symbols of Ireland and Irish culture such as shamrocks, musical instruments, Leprechauns and more.

Ornate details – Each snowman is hand painted and bears an extensive amount of detail including Celtic patterns lining the snowmen's hats, gloves, jackets, scarves and instruments. And keep in mind that all those minute details are intricately squeezed onto a 4 inch ornament. THAT is impressive!

No two are alike – There are a total of 18 ornaments in the collection and each snowman is completely unique. Each has his own look and style of clothing. Each interacts with a different item such as a Christmas stocking, a watering can, a sled or an instrument. Each ornament even has its own name.
After thoroughly looking over each snowman, I have to say that I am amazed at the high quality craftsmanship, detail and thought that has gone into these ornaments. For these to sell for 9.99 each is truly incredible.
These Irish snowman ornaments will work great on just about any type of Christmas tree but they work especially well on an Irish themed Christmas tree. Be sure to check out my article on that for a little inspiration. They would also work great on a simple ornament tree display
.
A few facts about these ornaments
There are 18 limited edition collectible ornaments in the entire collection and each ornament is approximately 4″ tall. They are made of high quality artist's resin and hand-painted.
Sometimes hand-painted ornaments have a little chipped paint here and there or a slip of the brush - NOT these. I inspected each ornament for such flaws and found no problems whatsoever.
When you order the collection, you receive an issue of 3 unique snowmen every month or two until your collection is complete which allows you to keep only the ones you want. My son contacted The Bradford Exchange Online to find out if we could purchase all 18 at once and he explained that we were using them for an Irish Christmas tree article. The Bradford Exchange Online then graciously provided us with all 18 ornaments for the purpose of that article. So ordinarily you won't be able to purchase the full collection all at once. But they are definitely worth the wait!
Also, and this is REALLY important, these snowmen are in limited supply because they are limited edition collectibles.
I guarantee you they WILL sell out.
And when they do, it becomes almost impossible to find them on the secondary market. Plus, even if you do find them, you probably won't find the whole collection and the price will almost definitely be higher.
The only reason I'm telling you this is because of all the emails I get from people hoping I can help them track down other sold out items such as these Irish Santas for example.
That's why I'm warning you now.
Click here to order the Irish Blessings Snowman Christmas Tree Ornament Collection: Thomas Kinkade Emerald Isle